Indonesia's accident report asks Boeing for improvements to 737 MAX and criticizes Lion Air management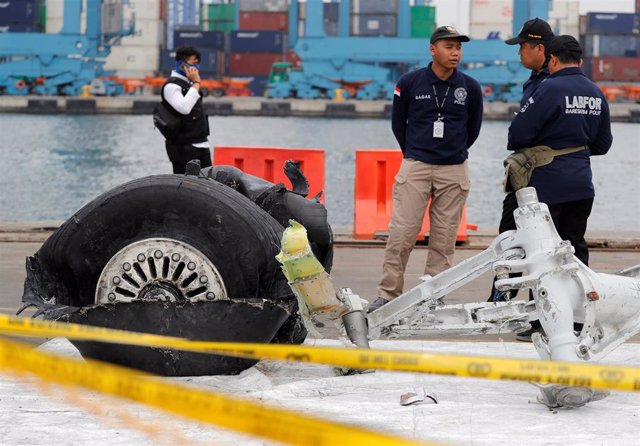 Police analyze the remains of the Lion JT610 flight – REUTERS / BEAWIHARTA BEAWIHARTA – Archive
He claims that the Indonesian airline should have left the wrecked plane grounded after failures on previous flights
SINGAPORE / CHICAGO, Oct. 25 (Reuters / EP) –
The final report of the Indonesian National Transportation Safety Commission (KNKT) on the crash of a Boeing 737 MAX aircraft that killed 189 people in the Java Sea on October 29, 2018 summons the American aeronautical manufacturer to make improvements to the cabin systems, including the MCAS automatic stabilization system, in addition to making recommendations to improve the training of pilots to the airline, Lion Air, which criticizes for not having left the aircraft on the ground for the previous detection of errors in flight.
The final report, which has been accessed by Reuters and will be published this Friday, makes recommendations for improvements to both Boeing and the local Indonesian airline Lion Air and the United States Federation Aviation Agency (FAA).
Less than five months after the Indonesian incident, another Boeing 737 MAX plane crashed on March 10 in Ethiopia shortly after takeoff from Addis Ababa airport, killing 157 people traveling aboard.
The two accidents caused the aeronautical authorities to decide to suspend operations with the Boeing 737 MAX model. This Wednesday, KNKT investigators explained to the families of the victims that a number of factors were involved in the accident, including mechanical and design problems, as well as lack of documentation on how the systems would behave.
The "deficiencies" in the flight crew's communication and the manual control of the aircraft contributed to the accident, as did the alerts and distractions in the cockpit, according to the information document that was transferred to the relatives.
The final report notes that the first officer was not familiar with the procedures and had shown problems with the handling of the aircraft during training. It also concludes that an important sensor that provided data to the automatic MCAS stabilization system had been poorly calibrated by a Florida workshop and that there was strong evidence that it had not been tested during installation by Lion Air maintenance personnel.
The KNKT report underlines that the Lion Air airline should have withdrawn the aircraft after the failures detected on previous flights and notes that 31 pages of the airline's maintenance records in October. Lion Air did not want to make statements about the report.