Indonesia manages to stop flooding and change the weather by throwing 26,000 kilos of salt into the clouds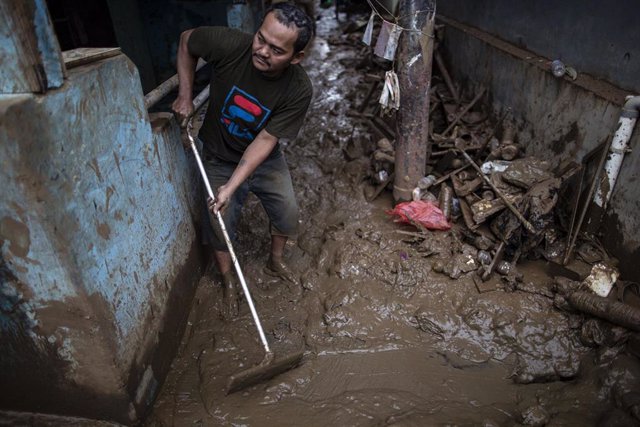 A man tries to clean his house from the mud caused by heavy rains in Jakarta, Indoensia, since New Year (2020). – Donal Husni / ZUMA Wire / dpa
JAKARTA, Jan. 7 (DPA / EP) –
Indonesian government authorities have explained on Tuesday that the operation carried out to try to modify the weather by throwing 26,000 kilos of salt into the clouds to cause rains in less populated regions before they fell in Jakarta has been "successful."
Floods and landslides after the violent rains that fell during the New Year and the following days in Jakarta and surrounding cities have killed at least 67 people and forced displacement of more than 36,000, according to official sources.
The authorities have shot 26,000 kilos of salt through the flares of clouds that flew over the Sonda Strait, in the west of the country, last Friday to induce rainfall over the waters that bathed the island of Java.
"We managed to cause the rains in these areas, which resulted in a reduction of rainfall in the Jakarta metropolitan area in terms of duration and intensity," said the head of the Agency for Technology Application and Evaluation (BPPT), Hammam Riza
"Clouds are still forming and rains are still expected in the Jakarta metropolitan area, but the intensity is too low to cause flooding," Hammam said.
Indonesian meteorological authorities have assured that these rains have been the most violent since 1866, and whose virulence is explained by several factors, including the arrival of the monsoon and the high temperatures that came with the winds coming from the Indian Ocean and the South of the island of Java.