India's news coverage of Bollywood star's death sparks anger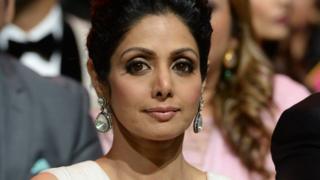 Twitter users have expressed outrage over India's TV news graphics of Sridevi Kapoor in bathrooms in their coverage of her death.
A Dubai post-mortem report said the Bollywood superstar, known simply as Sridevi, died of accidental drowning in a hotel bath.
Some news programmes in India began screening images of the actress in bathtubs and bathrooms to visualise her last moments.
This led to a backlash on social media, with people expressing their anger by taking photos of the TV reports they found most shocking.
You may also like:
Sridevi obituary: From Bollywood actress to Indian icon

The Indian viral video that empowers women

Man injured and fined after pursuing selfie trend in India
Delhi-based columnist Brown Sahiba shared this image describing it as "gross".
Indian journalist Karnika Kohli posted pictures she felt were in bad taste, including this from Hindi channel Aaj Tak TV, where the text on the bathtub reads 'The Bathtub of Death'.
Other Twitter users who were critical of the coverage included actor and comedian Vir Das, who called Indian news channels "parasites" in a tweet liked nearly 4,000 times and urging them to "show a little tact".
Some news outlets were encouraging social media users to speculate on the cause of Sridevi's death using the hashtag #SredeviDeathMystery.
But the hashtag was hijacked by people looking for a way to direct their anger at the news organisations' reporting, with one user branding India's news media "disgusting", while another commented that "journalism has stooped to a new low".
Social media users later established their own hashtag #NewsKiMaut – which translates as 'The Death of News' – to share their reactions to how Sridevi's death has been reported.
Skip Twitter post by @BDUTT
The only answer to these #Sridevi hideous hashtags on news tv tonight is one of our own : #NewsKiMaut. Forget a bathtub; a drain pipe will do for this gutter level rubbish. Ashamed to be affiliated with this. Relieved to not be on air in this present environment

— barkha dutt (@BDUTT) February 26, 2018
End of Twitter post by @BDUTT