India's Billy Elliott 'living the dream' in the Scottish Highlands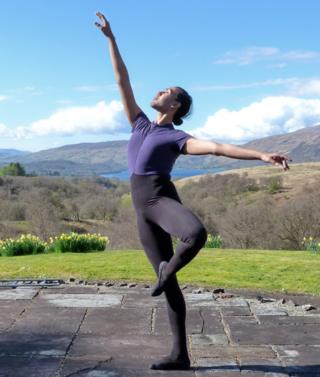 Growing up in India, Rahul Pradeep longed to be a dancer but stigma blocked his ambitions. Now a prestigious ballet school nestled in the Scottish Highlands is making his dream come true.
The village of Taynuilt is an unlikely location for one of Britain's leading ballet schools.
More than two hours drive from the nearest city, perched on a hill beside a loch in Argyll, the village's name is derived from Gaelic, meaning the house by the stream.
Even less likely is the journey that brought Rahul Pradeep 5,000 miles from his home in Bangalore to Ballet West, where he now studies full time for a degree.
For Rahul it's the fulfilment of a childhood dream. He recalls at the age of seven staring with fascination at his female cousin pictured in a local newspaper with her dance teacher – but he kept silent.
"I always feel in the back of her head my mother knew that I wanted to dance," he said.
"But there's such a stigma attached to boys doing ballet. First of all, ballet being done in India – it's new for everybody – and boys on top of that.
"There's all these misconceptions that it's very girly and very feminine – but what you actually see in classical ballet is the woman embodies femininity and the man is as masculine as can be. It's a celebration of that."
Negative stereotypes
Like the boy in the film Billy Elliott, Rahul struggled against negative stereotypes and prejudice. Throughout his teenage years, he kept his passion for dance hidden. It wasn't until he turned 20 that he took his first ballet class.
"For the first two years I didn't even tell my family that I did ballet," he said.
"I just told them I was doing jazz, and a little bit of jazz ballet. But then we had a little performance coming up and I'd say 'Oh by the way, I'm in a ballet show and can you come and see it'."
But opportunities in India were limited. Ballet classes are relatively rare. The son of a single mother, Rahul struggled financially to support his passion.
"Things have always been hard, but my mother made sure we never went hungry.
"I was teaching aerobics and yoga to make money, I would teach and then go to ballet class and practice again at night. I was dancing seven days a week."
A turning point came when Rahul's ballet teacher in India, who came from the UK, advised him to apply to an international dance school. She herself had once auditioned at Ballet West, a prestigious school nestled in a forest above Loch Etive, which has Sir Billy Connolly as its patron.
"I didn't think I would really get in because it's such a good school. If you look at some of the past graduates, some of them are dancing all over Europe, they are dancing in the States."
But Rahul's potential was quickly spotted by the school's founder Gillian Barton when she watched videos of him dancing.
"He sounded like a really lovely young man – and he is amazing," said Gillian.
"We have never regretted having him.
"He is a wonderful student and a real asset. Anybody who comes in contact with him just loves him."
Despite winning a place and saving money for his air fare, Rahul has struggled to afford his tuition fees.
"It is hard because ballet is still not recognised in India," he explained. "We don't have a national ballet. It's only in my generation that ballet is slowly being recognised.
"There is money for engineering and medicine, but not ballet, so I need a sponsor."
Ballet West has offered him a scholarship to fund his first year's teaching which began last October. Already he has appeared in a production of Giselle at some of Scotland's leading arts venues.
"I have been here six months and I have learnt more than I have in the last five years about ballet," says Rahul.
"I couldn't even say Taynuilt when I came here. There is nothing to describe the beauty of the Highlands and all the munros. It's lovely. When I saw the college and the country I was sold.
"I have to pinch myself that it's happening. I have teachers from all over the world at this school on top of a hill with its own loch."
Rahul has no illusions about the difficulties of forging a career in dance. Now aged 26, he is relatively old to be studying for a ballet degree.
"Because I came into it so late, I didn't have any preconceived notions. I'm happy with whatever I can get from that – whether it's teaching or choreographing."
His plan is to return to India and encourage others to train in ballet.
"I love teaching. I was a yoga and aerobics teacher back home and if I could do that with dance… what better way to ensure that someone who wanted – a little boy back in India – who wanted to dance, can get that opportunity."
For the moment, though, he is focused on his studies.
"I get up, I come to class, I do class, I crawl back home.
"But if you check my social media, I wear my heart on my sleeve. I am living the dream. There is no other way to put it."