In the footsteps of forgotten black Britons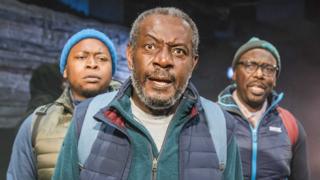 The little-known stories of black Britons who lived centuries ago are now being told by a woman who wants to remind us that Britain's been multicultural for much longer than most of us think.
"This is a country that loves a good costume drama," says Dawn Walton.
We certainly do, but the theatre director is ruminating on why some viewers are thrown if someone from an ethnic minority appears in a historical setting.
"If you have anybody of colour in a costume drama, people are really confused," Walton continues.
"They can't really understand why that's possible. And some people get really angry about it."
While the accepted version of history says multicultural Britain was born when 500 immigrants sailed from the West Indies on the Windrush 70 years ago, Walton wants to remind us that there have been people of colour on these islands for much longer.
On Monday, her Sheffield-based Eclipse theatre company is premiering the first of seven plays that all take inspiration from real – and largely forgotten – stories of black people in Britain spanning hundreds of years.
"Of course, Windrush is very recent history, and most people don't realise that the multiculturalism of Britain went way before that time," she says. "And I'm a little bit belligerent about making that point.
"If we're telling British history and British stories, then we should tell all of Britain's stories and there's a whole band of British stories that nobody knows about, and they're all black."
The first of Eclipse's plays, titled Black Men Walking, is inspired by a modern-day walking group whose members regularly ramble across the Peak District.
In the play, their journey takes them into a sort of spirit world where they encounter "ancestors of black British histories past" who might once have roamed the region.
They include Roman emperor Septimius Severus, who was born in what is now Libya, and who led his army through the British Isles in the early 3rd Century.
The idea for the play came to Walton when she joined the real-life walking group and they came across an old Roman road.
"My head was suddenly thinking about Septimius walking on the same road that I was walking thousands of years later, and this potent idea grew into Black Men Walking," she says.
The characters also meet the wealthy "bangle lady" of African ancestry who died in York in the 4th Century; John Moore, who was given the freedom of the city of York in 1687; and Pablo Fanque, a successful Victorian circus owner.
Black Men Walking, which starts a 14-week UK tour at the Royal Exchange theatre in Manchester on Monday, will be followed by more plays under the Revolution Mix umbrella.
Revolution Mix was born when Walton gathered 15 writers, all from outside London, and asked them to help her tell "the hidden histories of Britain" spanning at least 500 years.
Five more stage plays are currently in development, as well as a BBC Radio 4 drama and a film.
"There's one based in Bristol in the 60s," Walton says. "There's one based in Newcastle, there's one based in south of England in the 1860s, there's a massive Lancashire story that travels across a huge expanse of time. There's a number of really big ambitious pieces.
"The jumping off point is always something real, someone real, a real incident."
---
You might also like:
Celebrating black and Asian life in England

Historical dramas 'limit UK black actors'

How does black hair reflect black history?
---
As well as directing Black Men Walking and steering Revolution Mix, Walton is also busy spearheading a major scheme to nurture black and Asian theatre artists in the north of England.
Under the title Slate, the scheme has received £500,000 of Arts Council England funding to support 1,200 performers, writers and directors over the next three years.
The north is "full of independent artists with very little resources, and at the bottom of the pile, if you like, are black artists", Walton says.
While relatively few of them are on the radar of large established theatres, Walton says many seek out Eclipse because of the company's reputation.
"They all seem to have my telephone number," she says. "We will help if we can at Eclipse, but I don't have the resource to be able to do that. So I invented something.
"Slate is designed to allow those artists to create work, to explore their practice, to work locally without having to leave the region and move down to London."
Practical support
The artists it's designed to help are people like Testament, a Leeds-based writer and beatboxer who has collaborated with Walton to create Black Men Walking.
The pair got together after Walton spotted him performing at Leeds Central Library.
"I thought, this is really interesting," she says. "That's now gone on to him having his first experience of creating a piece of theatre that he's not in, but is for four other actors.
"He would never have that experience anywhere else I don't think, without that kind of focus. That's the kind of work multiplied by 1,200 in Slate."
That's a lot more stories waiting to be told.
---
Follow us on Facebook, on Twitter @BBCNewsEnts, or on Instagram at bbcnewsents. If you have a story suggestion email entertainment.news@bbc.co.uk.