Impunity encourages atrocities against civilians by Islamists and armed groups in Mali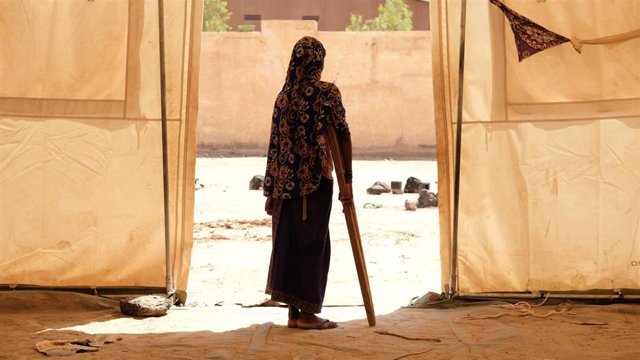 A girl in a displaced persons camp in Sévaré, Mali – UNICEF / UN0332638 / ROSE / UNICEF / UN0332638 / ROSE
HRW has documented at least 456 civilians killed in attacks in 2019 but believes the figure would be much higher
MADRID, Feb. 10 (EUROPE PRESS) –
Attacks and massacres of civilians in central Mali are increasing, claiming hundreds of lives in the midst of persistent impunity that encourages both jihadist groups and ethnic self-defense groups operating in this part of the African country to continue to act, according to Human Rights Watch (HRW).
Violence in central Mali has steadily increased since 2015, when Islamist groups allied with Al Qaeda began advancing from the north to the center of the country. Since then, HRW explains, these and the groups that have recently allied with the Islamic State in the Great Sahara (ISGS) have attacked security forces and committed atrocities against civilians.
Their actions have resulted in the creation of dogon self-defense groups, which have also committed abuses, and armed groups of Peul, who seek to defend themselves from retaliatory actions committed against this community, predominantly dedicated to pastoralism, which is usually link with jihadist groups.
"The fact that the Government of Mali is not punishing armed groups is emboldening them for committing more atrocities," denounces the director for HRW Central Africa, Corinne Dufka. "Armed groups assassinate, mutilate and terrorize communities in central Mali without any apparent fear of being held accountable," he adds, stressing that "the human balance in broken lives is increasing as the cycles of violence and revenge continue. "
The NGO has accounted for the death of at least 456 civilians and hundreds more injured in these attacks during 2019, although it considers that the total number of victims of Islamist and community violence would be much higher, given the constant "eye for an eye" killings of Shepherds who care for their livestock or farmers in their fields.
In its report "'How much more blood should be shed?': Atrocities against civilians in central Mali", HRW has documented an increase in attacks, with civilians massacred in their villages, men dragged out of public transport by their ethnicity, people burned alive and others killed by the explosion of explosives.
2019, THE MORTEST YEAR SINCE 2012
Their data confirm that 2019 has been the deadliest since 2012, when the coup followed by a Tuareg rebellion that was soon kidnapped by Islamist groups until they were arrested for French military intervention. The attacks have continued in this 2020 startup, the organization highlights.
The information has been collected during the four visits to the center of Mali and Bamako in 2019 as well as through telephone interviews of 147 victims of abuse and witnesses, as well as leaders of the Peul, Dogon and Tellem communities, cooperators, experts and officials of different scopes
In the case of jihadist groups, HRW has documented attacks against more than 50 villages and towns mainly near the border with Burkina Faso and that have caused a massive population displacement.
Among the atrocities committed are the killing of at least 38 civilians in simultaneous attacks in the towns of Yoro and Gangafani. In addition, more than 50 civilians have died from explosive devices allegedly by these groups, including 17 people who died from the bomb hidden in the corpse of a man with a mental disability that his family was going to bury after being previously killed.
THE PEUL, AT THE POINT OF VIEW
The recruitment by Islamists of members of the Peul community has contributed to increasing tensions with agricultural communities, which have formed self-defense groups in the face of inadequate security offered by state forces.
The attacks by the dogon defense group – known as Dan Na Ambassagou – include the killing of 39 Peul civilians in Koulogon on January 1, 2019 as well as the one to date the worst killing in years, the most of 150 civilians Peul on March 23 in Ogossagou. In turn, armed Peul have also perpetrated some attacks. Among them, HRW cites the June 9 massacre of 35 Dogon civilians in Sobane Da.
IMPUNITY AGAINST ABUSE
Although the Malian government has promised to sit in court the perpetrators of the worst atrocities, the truth is that, according to HRW, in 2019 the courts only opened several investigations and convicted about 45 people for small incidents of community violence. However, to date, no armed group leader involved in massacres has been questioned and much less prosecuted.
Since 2015, HRW has documented the killing of almost 800 civilians by ethnic groups and armed Islamists in central Mali. In this period, only two trials have been held for murder. "People have learned that they can kill and burn and destroy without consequences," an old man lamented in statements to the NGO.
In this regard, HRW argues that the Mali authorities should devote more energy and efforts to properly investigating and bringing to justice those responsible for serious human rights abuses.
In addition, the organization believes that the international partners of the African country should increase support for the judicial system in the center of Mali as well as for the Judicial Unit Specialized in Terrorism and Organized Crime, which is based in Bamako and whose mandate was extended in 2019 to include war crimes and other serious international crimes.
"The Government, with the help of its international partners, needs to do much more to prosecute those responsible for the crimes and dismantle these abusive armed groups," says Dufka.