'I'm called a role model because I'm female'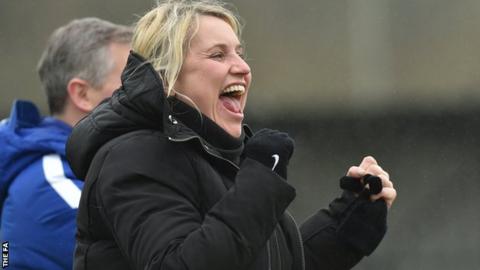 Chelsea Ladies manager Emma Hayes says people call her a "role model" because she is female when she wants to be known for her coaching success instead.
Hayes' team face Arsenal in Saturday's Women's FA Cup final at Wembley (17:10 BST), which will be live on BBC One.
The 41-year-old, who is 33 weeks pregnant with twins, will not walk her side out after health advice, but plans to follow the game from the dugout.
She is one of only three female bosses in England's 10-team top flight.
When asked about being a "female role model" during Chelsea's pre-match news conference, Hayes replied: "You wouldn't call [Manchester City Women boss] Nick Cushing a role model.
"You'll call me one because I'm female.
"While of course I want to influence other females in the game, more importantly I want to be renowned for being good tactically, being an outstanding coach who delivers well on the grass, who gets the best out of my players and who ultimately competes for titles year in, year out.
"It does make it hard when there's not a lot of us [women] doing it, but we have to remove the gender-specific conversation about it. I just see myself as a coach."
Pregnancy 'is my biological right'
The former Arsenal assistant coach, who has led Chelsea since 2012, has continued to manage her title-chasing side throughout her pregnancy.
But she stressed that made her "no different to any other pregnant woman in the workplace who is still going to work", when speaking to the gathered media before the 48th Women's FA Cup final.
"For me, it's important that people think you can do both," Hayes added.
"It's important that all women in this position feel supported enough to do this. I'm at the best club in the world for that. There's been huge support for me.
"But also, it's my biological right to do that – and I can still get up to go to work every day.
"Some days I'm going to struggle, but I'm at 33 weeks and I'm still marauding about on the football pitch barking at them all, and can still go home and get the adequate rest.
"It's important for my mind and my health to keep working, as long as I do the right things and get enough sleep."
Hayes said her decision not to walk her team out at Wembley on Saturday "was not difficult" after being advised to "take it easy" during the game.
Chelsea's assistant manager Paul Green will instead lead the side and shake hands with dignitaries before kick off, standing on the pitch alongside the players for the national anthem.
"I have to put my pregnancy first in that regard and be quite honest to say I feel quite vulnerable walking out there with a ton of cameras, physically," Hayes added.
"I don't want to agitate anything and I've been advised to just take it easy.
"It wasn't a difficult decision because it's not about me. Paul has been part of putting this team together as much as I have.
"I look forward to watching Paul lead them out, because he very much deserves that – as much as anyone.
"It's hard to keep me seated. It's taxing. I just have to be sensible. At this stage of a pregnancy, I have to take the fewest amount of risks as possible.
"It's really difficult for players to hear messages [from the sidelines] at Wembley, so I'll get those guys out to the front of the box and let them deal with it."
On the pitch, Hayes knows her side will be labelled favourites for their meeting with Arsenal.
Chelsea are second in Women's Super League 1 – behind leaders Manchester City only on goal difference – while Arsenal are fourth, four points behind.
The Blues reached this season's Women's Champions League semi-finals – enjoying their most successful run in Europe – before being eliminated by German side Wolfsburg last Sunday.
"What concerns me is putting trophies on the table. I want to win things," Hayes added.
"As far as I'm concerned, we are the best team in the country at this present time, but you have to win silverware to substantiate that."
You can now add WSL 1 notifications for line-ups, goals, kick-off, half-time and results in the BBC Sport app. Visit this page to find out how to sign-up.