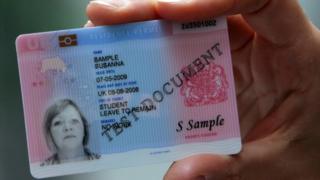 Two former Labour home secretaries – Charles Clarke and Alan Johnson – are urging the government to reconsider identity cards.
In a joint letter to the Times, the former MPs say that their introduction would prevent a crisis like the Windrush scandal.
Meanwhile, former Conservative Home Secretary, Ken Clarke, told BBC Radio 4's World At One programme that it was "impossible" to control illegal migration without an identity card system.
Illegal immigration: Are ID cards the answer?
There have been periodic calls for the return of identity cards ever since they were scrapped in the UK in 1952.
The most recent – and serious – attempt to bring them back began after the 11 September attacks in the US in 2001, when the Labour government adopted a significantly tougher stance on security and immigration.
This was a period when the threat from terrorism was believed to come primarily from foreign nationals living in Britain, some of whom had multiple aliases and no right to be here.
But by the time then Home Secretary David Blunkett published proposals in July 2002, they had been renamed "entitlement cards", with the focus on allowing people to access benefits and services.
It took another six years before the first cards began to be issued, but by then a powerful civil liberties campaign had the backing of Conservatives and Liberal Democrats, who scrapped the scheme when they came to power in 2010. It had already cost £300m.
Now, the Windrush crisis, concerns about illegal immigration and the need to register 3.5 million EU nationals who wish to live in Britain after Brexit have led some to conclude that an ID card system should be set up.
The prospects, however, are remote. Prime Minister Theresa May was the home secretary who abolished the previous scheme; there's also the cost of setting up and running ID cards (previously estimated at £5bn); and there are some within government who were vehemently opposed last time around and are likely to be so again, such as Brexit Secretary David Davis.
And on the Conservative backbenches, Jacob Rees-Mogg told LBC radio that it would be a mistake to introduce ID cards:
"If you have ID cards, a policeman can ask you at any time who you are and what you are doing. That's not the British way," he said.
How common are identity card schemes?
The UK is one of only three EU countries that does not issue identity cards to its nationals, the other two are Denmark and the Republic of Ireland.
Identity cards are mandatory in 16 countries.
While citizens in some countries are not obliged to apply for a national identity card, they are required to hold some other identification document instead. This is the case in Hungary, Latvia, Lithuania and Slovenia.
EU countries with no national identity card scheme:
Denmark
Ireland
United Kingdom
EU countries with an optional national identity card scheme:
Austria
Finland
France
Hungary
Latvia
Lithuania
Netherlands
Slovenia
Sweden
EU countries with a mandatory national identity card scheme:
Belgium
Bulgaria
Croatia
Cyprus
Czech Republic
Estonia
Germany
Greece
Italy
Luxembourg
Malta
Poland
Portugal
Romania
Spain
Slovakia
Source: European Parliament