Ilie Nastase: Romanian former world number one arrested twice in one day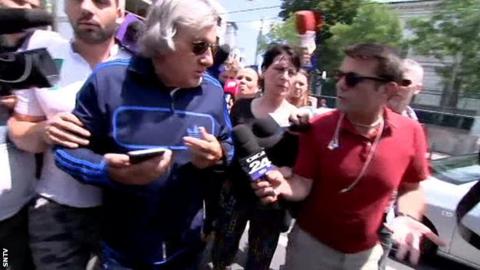 Former world number one tennis player Ilie Nastase was arrested twice on Friday, Romanian authorities have said.
The 71-year-old was arrested on suspicion of drink-driving, before later being pulled over for driving a scooter without a valid licence.
Bucharest traffic police stopped Nastase at 4.45am local time and he gave a positive test at the station, officers said.
He was released, but arrested for a second time hours later.
Head of the Bucharest traffic police Victor Gilceava told a news conference Nastase attempted to drive away when flagged down by police in the first incident.
After being taken to the station, he was allowed to leave police custody after being fined £189 and having his licence suspended for three months.
Nastase was later arrested for a second time by traffic police after he was spotted riding the scooter. Police said an investigation into the second offence was now under way.
Last year, Nastase was banned from official roles by the International Tennis Federation (ITF) until 2021 and fined $10,000 (£7,700) following his tirade at a Fed Cup tie in Bucharest.
He swore at an umpire, insulted British number one Johanna Konta and her captain Anne Keothavong and made a derogatory comment about Serena Williams' unborn child.
On appeal, his ban was reduced to eight months – Nastase will be able to work at ITF events from April 2020 – but his fine was doubled.