Ikea founder Ingvar Kamprad dies in Sweden at 91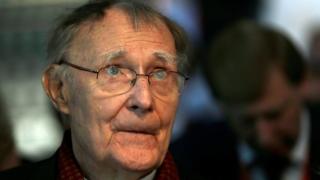 The Swedish founder of the Ikea furniture chain, Ingvar Kamprad, has died at the age of 91, the company has announced.
Mr Kamprad died at his home in Småland, Ikea confirmed in a statement.
The company said that Mr Kamprad was "one of the greatest entrepreneurs of the 20th century".
The Ikea founder had faced questions over his past links to the Nazis, which he referred to as the "greatest mistake" of his life.