'Iconic' blue British passport to return after Brexit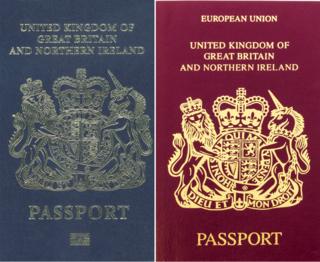 British passports will change from burgundy to blue after Britain leaves the EU, the Home Office has said.
Immigration Minister Brandon Lewis said he was delighted to return to the "iconic" blue and gold design which came into use almost 100 years ago.
The new passports will be made available to those renewing or applying for a passport from October 2019.
Burgundy passports have been used for almost 30 years after the UK joined the EU and adopted the style.
The new passports will also have updated security features to protect against fraud, Mr Lewis said.
---
What's in a colour?
According to the Passport Index, 76 countries have blue passports, including a number of former colonial and Commonwealth countries, such as Australia, the United States, Canada, India and Hong Kong.
Several Caribbean countries also have blue passports, including Jamaica, Antigua and Barbuda, Barbados and St Vincent and the Grenadines.
In Europe, people from Iceland and Bosnia and Herzegovina both carry blue passports, while it is also a popular colour in central and south America – Argentina, Brazil, Costa Rica, El Salvador, Uruguay and Venezuela are among those that have them.
Others include Israel, Iraq, Syria and North Korea.
Source: Passport Index
---
The Home Office said there was no need for British passport holders to do anything ahead of their current passport renewal date, adding that the changes would be introduced in phases.
When the UK leaves the EU in March 2019, burgundy passports will continue to be issued but with no reference to the European Union.
The blue passports will be issued later the same year, after a new contract for their production is negotiated.
"Leaving the EU gives us a unique opportunity to restore our national identity and forge a new path for ourselves in the world", Mr Lewis said.
---
History of the passport
First introduced during the reign of Henry V in the form of a "safe conduct", passports were granted from at least 1540
One of the earliest still in existence was issued on 18 June 1641 and signed by Charles I
A passport photograph became a requirement in 1914, upon the outbreak of World War One
The familiar blue British passport came into use in 1921, with the last expiring in 2003
The first burgundy, machine-readable, UK passports were issued in Glasgow, in September 1988