'I will miss you': Wenger bids farewell to Emirates
His team failed to deliver a final piece of silverware for the Frenchman as they crashed out of the Europa League on Thursday, but they saw off Burnley 5-0 on Sunday to secure sixth place in the Premier League.
Welcomed back on to the pitch by rapturous chants of "there's only one Arsene Wenger", the football manager addressed the crowd.
"Thank you for having me for such a long time. I know that's not easy," he said. "Above all I am like you: I am an Arsenal fan. That means this is more than just watching football, it's a way of life. It is caring about the beautiful game, about the values that we cherish.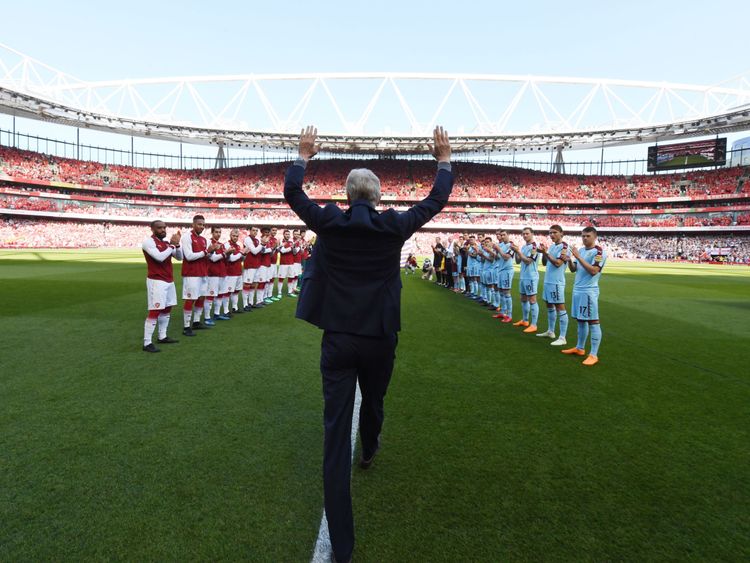 "I would like to thank everybody at the club who makes this club so special. I would invite you to really push to support the players and the staff who will remain behind me.
"For me these football players have a special quality, not only on the pitch but off the pitch. Please follow this team and support them next season because they deserve it.
"I would like to finish by saying I will miss you. Thank you all for being such an important part of my life. I hope to see you soon. Well done. Bye bye."
Wenger's departure comes after 22 years at the club, during which he won 10 trophies, including three Premier League titles.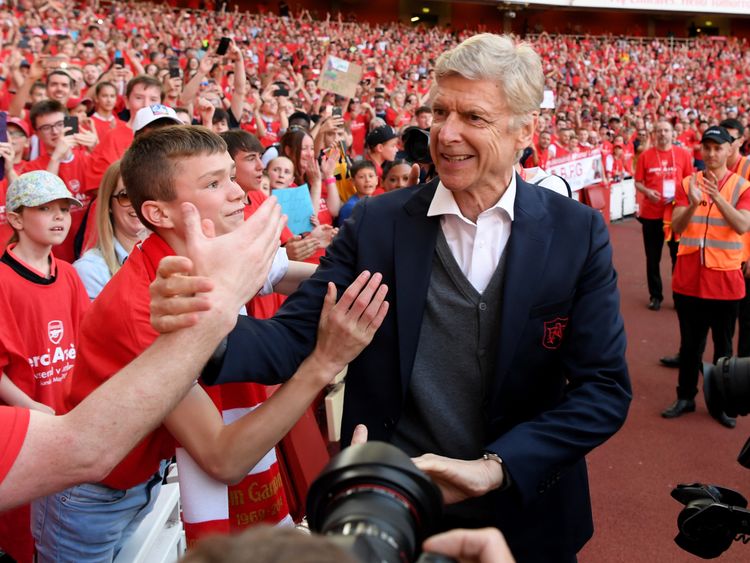 Speaking to Sky Sports' Greg Whelan, the 68-year-old said he did not know what his biggest achievement was.
"As a manager, your target is always to get the most out of your team, and when you don't lose a game you can't do much better," he said.
"I can think of other seasons where we have done well and I have taken the maximum out of the players – you have to be honest and know if you've taken the most out of your players or not."
When asked about what he was most proud of, he replied: "First of all, for having maybe been faced with the values that are important to me. The titles are important, but over a long period, integrity, values of the club and team spirit are the most important for me."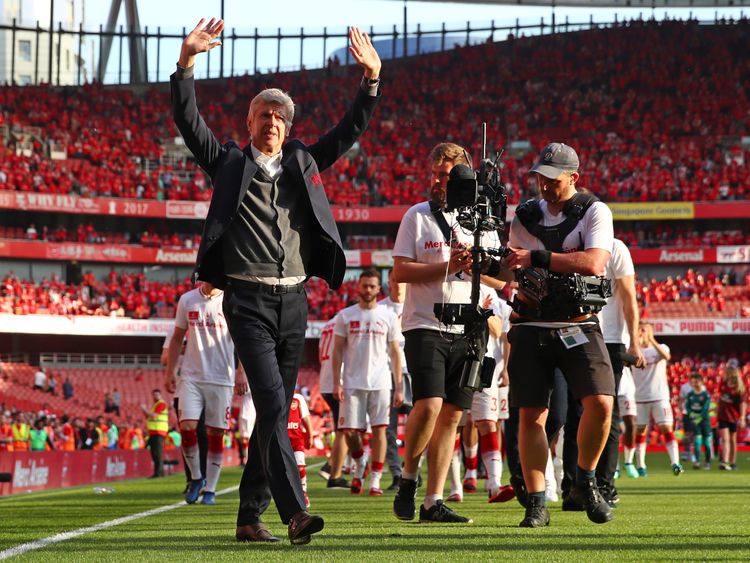 He also took time to send his best wishes to former rival Sir Alex Ferguson, who had emergency surgery on Saturday after suffering a brain haemorrhage.
"I'm concerned because last week we were together," Wenger said. "I trust his strength and optimistic character to get over it quickly and well."
More from UK



Teen 'lucky to be alive' after being shot in the head moments after nearby shooting




'Touching' messages pour in as Sir Alex Ferguson remains in intensive care




Mob fixer murdered on Merseyside stopped gangster called 'The Psycho' terrorising Gerrard




Mother of teenage shooting victim criticises police for failing to protect son




Tories under pressure to act over 'racist joke' councillor Rosemary Carroll




Monday's national newspaper front pages
Arsenal owner Stan Kroenke was among those in attendance for the Wenger's last home game, with a host of club greats, including Emmanuel Petit, Bob Wilson and Martin Keown, joining him.
Following the match, Wenger was given the commemorative gold Premier League trophy awarded to the club after its unbeaten "Invincible" title-winning season.