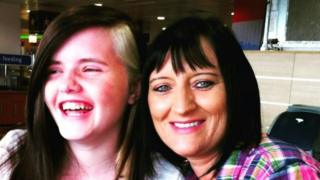 Mother-of-six Janet Scott was killed by a convicted murderer who was released from prison after serving 14 years. Her 20-year-old daughter, Amelia Karnstein, tells her mother's story and questions how the authorities allowed Simon Mellors to kill again.
We used to watch programmes with Mum about murderers but you never believe that's going to happen to you one day. You definitely don't think that you are going to be living what is basically a nightmare. We all sat across the table from that man and ate dinner. We even slept in the next room, next door to him. Any of us could have been targeted by him, any of us.
Mum met Simon in April last year and to begin with she didn't even want to talk to him. She was texting me at the time and said: "There's this weird man just staring at me from across the bar and trying to get my attention." Eventually he wore her down to the point where she went out with him.
Mum didn't find out that Simon had a previous conviction for murder until eight weeks into the relationship.
'I sat across the dinner table from my mum's killer'
However, he didn't tell us the full extent of what he had done – how he battered his former partner Pearl Black repeatedly to the head with an iron bar, then strangled her by stringing cable ties together and tightening them around her neck.
The limited information he gave us was disgusting and both of us threw up and were screaming and crying for a long time, but it wasn't the truth. We didn't know the truth.
He told Mum that he and Pearl went out one night, they got drunk, and Pearl admitted to Simon she had been sleeping with another man. He said they started to have a physical fight and that's when he did the crime. Mum being Mum thought he had just made a mistake and we are all only human. At that point Mum had already caught feelings for him and Mum was one of those people who believed in second chances.
We met his probation officer. Mum had already met him once before me.
I asked the probation officer 'Will he kill again?' and the probation officer looked me in the eye and said 'I don't believe so'.
Me and Mum looked at each other and we had faith in that, especially when he turned around and said: "Our priority is your safety."
As months passed Simon became very controlling over what groceries Mum bought, when Mum would go out to see friends, even travelling on holiday, which Mum loved to do. That caused arguments but it was never a physical fight.
He had pretty much moved himself into the house because he refused to be away from Mum. He was scared that Mum was going to go back to her estranged husband, Chris, so he wanted to be right next to her 24-7. He said he couldn't sleep without her.
Mum felt like she was suffocating so she said to him: 'I want to break it off.'
Every time she said that to him he blamed it on her depression, or he blamed the psychologist she was seeing to help with childhood trauma. He said the psychologist had got into her head and told her he was a bad person. Simon was manipulating her from day one.
Every doctor's appointment she had he would be there. Invited or not he would be there. Every family event that was held he would be there. He was kind of like a bad smell you couldn't get rid of.
Mum began to see Simon's true colours in about December time and she only stopped with him because she felt sorry that he had never had a Christmas with someone. He had always sat and drank by himself at Christmas and she didn't want that.
She wanted to give him a happy new year, so she finished it on 1 January.
She said: "This is a clean slate now. We can be friends and we can talk but I don't want to be with you." It still didn't stop him from trying to kiss her and stuff like that. Mum used to turn around and say: "I don't kiss my friends."
He stalled to give Mum her stuff back. Every time he did come round to bring it I had to be present because she didn't want to be alone with him. There was this one time he sat on the sofa after bringing back the majority of the china and he didn't go for three and a half hours. I was very aware that mum was texting his probation officer on multiple occasions saying: "Simon is doing this, Simon is doing that, what are you going to do about it?"
Although in the last few weeks Mum was scared of him she had no reason to fear him beforehand, I want to get that clear. It was only the last couple of weeks after Christmas that she began to seriously fear for her own life.
One night Simon followed Mum to work at Lidl at about four in the morning. I got a text from Mum at about half past four and she was petrified. She came back and she was frantic. Her hands were in her hair and she was going: "I had this horrible, horrible feeling. If I hadn't turned around and seen him looking at me, would he have done something?"
He should have been recalled to prison there and then. We were told by his probation that he had followed another woman, called Angela, who he had also dated before Mum. Simon called this woman bipolar, he said she was crazy, and when she reported him she was having an episode, and of course the probation office believed Simon.
It was a pattern of behaviour and no-one picked up on that.
Every day from thereon Mum made someone be there to pick her up and take her to work. However, it still didn't stop Simon from following the car. He would sit outside of Lidl, wait for her and try and get her to come into the car. She would turn around and say: "No, go away, I don't want to be near you."
The probation officer was made aware of the fact that Simon was stalking Mum and he was made aware of the fact that Mum was petrified of him. I was there when she made the phone call. Mum was pacing backwards and forwards in her bedroom at the time, saying to his probation officer: "What can you do? I need you to get him to stay away."
What she wanted was for them to recall him to prison without her name being brought into it. Mum feared that if he knew she had had him recalled he would come out in five years' time and kill her then.
She was hoping the probation officer would read in between the lines and have Simon arrested there and then. Obviously not.
He would talk about the people he had met in prison and how they would discuss crimes they had done and dispose of things if they did it again. This shocked us. We felt sick when he said that. They had already broken up by then and Mum was already scared. He had already threatened her husband Chris's life; he said he would just run him over in the city centre, which Mum was petrified of. He could have got one of us six children or one of her three grandchildren, so she didn't want to leave any of us in his pathway.
She pushed me back to university and told me I couldn't be in the house, and now we know why. We honestly believe he must have said something to her for her to know that it was coming, because she pushed my younger brother and sister to the side and said they need to stay away from the house for a little while, and the older siblings as well.
After he killed Mum on 29 January, by stabbing her then driving into her with his car, I warned the police that he would kill himself in prison. He wasn't willing to serve time, which I told the police, and he definitely wasn't willing to serve life. Simon believed that life was a game of chess. He said that every move on a chess board could be linked back to a part of your life.
He took the easy way out, by killing himself in prison a month after he killed Mum, because that would have been his way of saying checkmate. He would have won the game.
Who is responsible for Mum's death? For us the probation office, the probation officer and the justice system. Why are murderers serving 14 years? That's not enough. I think he managed to manipulate the probation officer, the judge and the rest of the system.
He referred to being in prison as being on holiday. He sat as many classes in prison as he possibly could in hopes to get an early release to see his daughter. She didn't want anything to do with him, for obvious reasons.
Why was someone like that, who has done a crime so disgusting you can't even put it in a horror movie, let out on the streets? One of his best friends had done a crime like that and he was out on the streets. Are they just walking around Nottingham? It's petrifying.
We want someone to turn around and accept the responsibility of letting a monster – someone we can only now describe as the devil – kill again. We want someone to give us some answers for the questions we've now got.
Mum lived for her children. She only ever dreamt of being able to see us grow older and be happy. Now she doesn't get to do that. The thing that would have hurt Mum the most is that by taking her life, and by the government letting him take her life, it has broken us, all six of us.
We are never going to get to see the day that Mum was free.
All six of us are going to struggle with depression and anxiety and post-traumatic stress disorder. It's a tormented life that we are going to have because of him and the mistakes the justice system made.
Now we have to live a life sentence that a murderer doesn't even get. He got 14 years but I've got to live with this for the next 60. How is that fair?
A Ministry of Justice spokesperson said: "This is a tragic case and our sincere condolences are with the victim's family and friends.
"Serious further offences such as this are very rare, but each one is taken extremely seriously and investigated fully.
"A full review into this case is under way, and we will carefully consider the findings to make sure all possible lessons are learnt."
As told to Caroline Lowbridge
You might also be interested in: