'I learned my husband was dead on a police computer'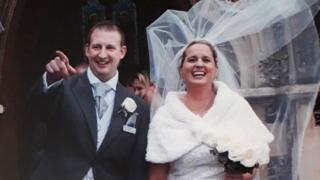 Heavily pregnant Samantha Dixon was scrolling through the messages on Thames Valley Police's computer system when she read that her husband PC James "Dixie" Dixon had been killed on duty.
Even in her shock, it did not escape Mrs Dixon it was a cruel irony that she, as a police officer who supported countless families through bereavement, should herself be facing such a dreadful loss.
Her husband, who was something of a celebrity as one of the stars of the Sky One police reality TV show Road Wars, had been involved in a motorcycle crash.
The screen read PC James Dixon was "going to die or was dead", says Mrs Dixon.
"I thought, 'no, it won't be him, he's invincible', because you always think that they are."
But Dixie had not survived the crash in which an elderly woman, a passenger in the car involved, was also killed.
What happened sparked an "overwhelming" response – Prime Minister Theresa May even offered her condolences to the family in Parliament.
Mrs Dixon – known professionally as PC Samantha Allen – had previously been involved in roads policing and, at the time of her husband's death, was working as a family liaison officer, helping others deal with losing loved ones.
"I went into work mode, thinking: 'Right I have helped lots of people through this – what would I advise them? What would I do to help them now I need to help me?'"
It took a close friend, a fellow family liaison officer, to tell her to "take your PC Allen head off and put your Mrs Dixon head on".
After taking this advice, Mrs Dixon, from Thatcham in Berkshire, says the support from family, friends and people she didn't even know "helped get me through".
"There's a lot of love out there and it sounds silly, but it carries you through it, because you think: 'Right, if there's that much love out there from people that don't know us then I can do this. I can do this for them and I can do this for me and I can do this for Parker.'
"Rather than focus on everything I have lost, which is my world, I focus on Parker and everything I have got now because that way the positive emotions keep me going, whereas negative emotion would just eat you up."
Of course that doesn't mean that Dixie will ever be forgotten.
The couple met on a first aid course about 10 years ago and "never really looked back", getting married in February 2016.
Having the personality to be able to talk to anyone about anything made Dixie a natural when his policing team was tasked with working in front of the Road Wars cameras, she says.
Dixie and his work partner Yorkie forged a memorable partnership in the Sky One series and they remained close friends away from the job.
"I said when I married Dixie I also married Yorkie because he is a massive part of my life," 35-year-old Mrs Dixon says.
"They were so natural in front of the camera and they were both good coppers."
She says that after Dixie's death, on 5 December in Wargrave on the outskirts of Reading, she received many messages from fans of Road Wars.
"He used to talk about his Road Wars days as if they were nothing: 'Oh I was just doing my job and there was a camera there'," Mrs Dixon says.
"He would have been proud because some of the comments I read like: 'I watched him on Road Wars and that's why I became a police officer' and 'I watched him on Road Wars and he was such a great cop'.
"The fact he made such a difference and they didn't actually really know him is quite humbling."
You might also be interested in:
Cinema ejects autistic woman for laughing

New search for toddler missing since 1981
On the day Dixie died, Yorkie had been riding alongside him, and Mrs Dixon says that it wasn't until she was visited by him days after the crash that it "solidified" for her that Dixie was dead.
"Even actually now, to this day sometimes… I hope it's not true," she says.
"You do think: 'Oh, I will wake up in a minute, this is a dream or he's on holiday or he's at work or whatever.'"
In a dreadful coincidence, Dixie died near the anniversary of the death of a close friend who had been killed on duty in the same circumstances five years before.
"You couldn't write that two best friends would die doing exactly the same thing, in a five-year period, in almost exactly the same way," Mrs Dixon says.
More than 500 police officers and mourners lined the streets of Pangbourne in Berkshire ahead of Dixie's funeral in January.
"We were overwhelmed – even he would have been overwhelmed," Mrs Dixon says, adding that her husband wouldn't have believed the "love that was out there for him".
"You would never normally put the term 'amazing' in front of a funeral, but it really was," she says.
Five months on from her husband's death, Mrs Dixon's thoughts have turned to how best to inform their son about the kind of man his father was.
"You almost had to meet him to truly know how great he was, which makes me feel sad for little Parker because I can tell him until the cows come home how amazing his dad was, but he really would have to meet him to truly believe it.
"But he's got so many aunties and uncles who will tell him exactly how his dad was, so I don't think he'll miss out too much."