'I found my call in life at that airport'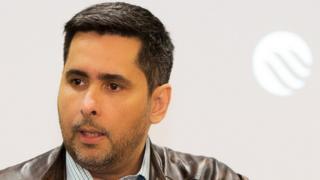 When an entrepreneurial teenager got a job selling language courses over the telephone, he wasn't going to let the fact that he didn't have a phone stand in his way.
It was 1991 in Rio de Janeiro, Brazil, and the then 19-year-old Flavio Augusto da Silva had got the telesales position for a school teaching English.
The catch was that the role did not come with access to an office, and instead he was expected to work from home. And unfortunately his parents didn't have a landline.
Household phone lines were a luxury in Brazil at the time, and his parents could not afford the 3,510 reais ($960; £710) instillation fee. Even if they could, there was a two-year waiting list.
So with mobile phones still a thing of the future for the vast majority of people, Mr Augusto had to think laterally or else his tenure in the job was not going to last very long.
His solution was to use the public telephones at Rio's Santos Dumont Airport, and make the transport hub his office.
Today Mr Augusto's language school business Wiser Education has an annual turnover of $113m (£84m), and Flavio's personal wealth is estimated at $300m.
"I have no doubts that I found my call in life at that airport," says the 46-year-old.
Back in 1991 his younger self soon discovered that he was rather good at selling places in English language classes, despite the busy airport noises in the background.
Quickly rising up through the business to the position of commercial director, four years later Mr Augusto decided it was time to set up his own English language school.
"I felt I was ready for it," he says. "The company I was working for wasn't willing to make the investments to improve the quality of their courses.
"I knew the product and I knew I could do it."
However, Mr Augusto faced two immediate issues that he had to overcome.
Firstly, while he was good at selling English language courses, he himself only knew a few words of English at that time. So it was going to be difficult for him to devise the actual learning material.
Secondly, Mr Augusto couldn't get a bank loan. So instead he had to rely on a $5,500 overdraft on which he was paying a high interest rate.
Hiring 18 people with English language skills to develop the teaching materials and methodology, he gambled that enough members of the public would enrol on the courses for him not to go bust after just a few months.
Launching his Wise Up business classes he decided he would focus on attracting a different type of customer to the majority of language schools in Brazil.
At the time most schools in Brazil were focused on children and people going abroad on holiday. His idea was to instead develop a course for adults who needed to learn English to help them in the Brazilian jobs market.
"There were many international companies arriving in Brazil that year, so English would become a demand in the hiring process," he says.
Thankfully his guess was correct, and despite a tough economic backdrop – Brazil's inflation rate in 1995 was 148% – 1,000 people signed up to the first Wise Up classes in Rio in the first year. And by 1998 there were 24 Wise Up schools employing 1,000 people, across Brazil.
Two years later Wise Up started to expand even faster after it adopted the franchise model, and by 2012 there were 400 branches across the country.
That was the moment Mr Augusto thought his job was done at the company. "As an entrepreneur I see myself as a constructor," he says. "I want to build a successful project, and then go for the next challenge."
And so that year he sold Wise Up – of which he was the sole owner – for $240m to Brazilian media conglomerate Grupo Abril.
The next challenge for Mr Augusto was going into football, and in 2013 he bought a majority stake in US side Orlando City for $120m, shortly before it joined Major League Soccer (MLS), the top tier of the American football system.
As interest in MLS has grown in recent years, the value of the teams has soared. Today Orlando City is valued at $490m, making it one of the richest in MLS.
One of the main reasons that Mr Augusto chose Orlando is because the city is one of the most popular overseas holiday destinations for Brazilians.
More The Boss features, which every week profile a different business leader from around the world:
Back in Brazil Wise Up struggled under Grupo Abril's ownership. So much so in fact that in 2015 it offered to sell the company back to him for $107m, less than half of what Flavio had sold it for. He accepted.
Under his renewed ownership the business has expanded again, and there are now 440 Wise Up branches across Brazil, Argentina, Colombia and Mexico, run by parent group Wiser Education. Mr Augusto say he wants to increase this to 1,000 by 2020, so he has no current plans to leave the business again.
Brazilian business analyst Ricard Motta says that Mr Augusto has a reputation for being "an audacious" entrepreneur who quickly expanded his company because "he planned his steps in advance".
Although now busy with both the language business and football club, Mr Augusto regularly updates his online blog "Valuation Generation", which aims to offer advice and encouragement to would-be young entrepreneurs.
"I see my trajectory as proof that everybody is capable of doing it," says the married farther of three. "I don't feel I'm better than anyone. It's only a matter of learning how to do it."