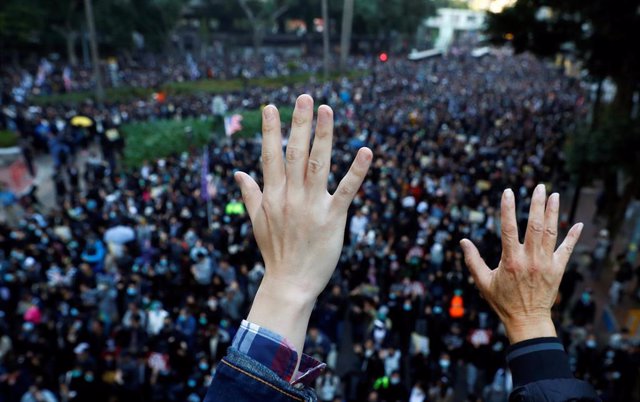 March for Human Rights Day in Hong Kong – REUTERS / THOMAS PETER
Police have asked attendees to be calm in the face of one of the most numerous demonstrations since the beginning of the protests
MADRID, Dec 8 (EUROPE PRESS) –
Hundreds of thousands of people have begun to march this Sunday through the streets of Hong Kong in the so-called March of Human Rights Day, which is expected to be one of the highest concentrations since the beginning of protests against territorial authorities to demand the preservation of judicial independence with respect to China.
The Police have granted their permission for the celebration of a march preceded by at least 11 arrests, the majority for possession of a firearm – strictly prohibited in the territory -, given the importance of an event that also commemorates the six months from the start of the second and most prominent phase of protests against a suspended extradition law for detainees in China that could violate the rights of those affected, according to the opposition.
Shouting "Fight for freedom, support Hong Kong," activists and participants of all ages are marching from Victoria Park to the bustling commercial district of Causeway Bay through Chater Road, near the heart of the financial district.
"I will fight for freedom until I die because I am from Hong Kong," one of the participants, June, a 40-year-old mother dressed in black sitting on the grass in Victoria Park, told Reuters. "Today it's about being with Hong Kong and the international community."
In addition, it is the first large-scale march since the overwhelming victory of the opposition to Beijing in the local elections at the end of last month, although some of the attendees fear that the victory at the polls "is not reflected in structural changes in the government system, "as another protester lamented, identified only as Chan.
At the moment the march is happening normally but practically all the assistants assume that the episodes of violence will begin when the sun begins to fall.
"Many people will leave in a few hours or when the night comes. Everything will become more dangerous thereafter, as past demonstrations have shown," says Anson, an office worker, at the 'South China Morning Post.'
The Hong Kong Police have arrested 11 people on Sunday for "possession of an unlicensed firearm" hours before the start of the march, in terms of the first seizures of weapons since the start of the protests.
Police have explained that they have received "information that suggested that someone who had participated in an illegal assembly planned to attack the police with weapons" this Sunday, as they published in their Facebook account.
Hong Kong Police Chief Chris Tang urged citizens on Friday to "peacefully" demonstrate this Sunday. "We hope that our citizens can show the whole world that the people of Hong Kong are capable of conducting a large-scale demonstration in an orderly and peaceful manner," Tang said.