Hundreds of thousands of Iraqis begin in Baghdad the march against the US occupation called by Al Sadr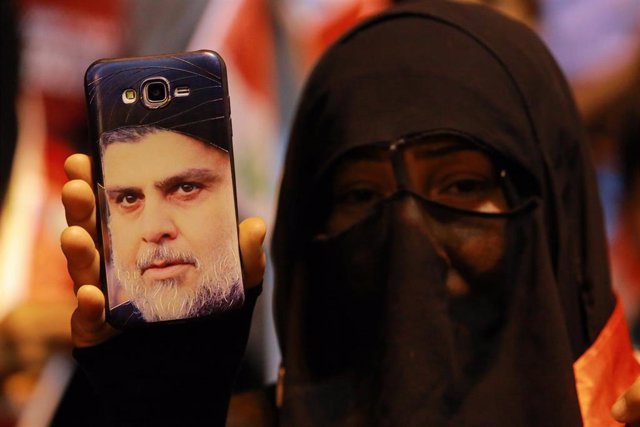 A supporter of Shiite cleric Muqtada al Sadr – Ameer Al Mohammedaw / dpa – Archive
MADRID, Jan. 24 (EUROPE PRESS) –
Hundreds of thousands of people have begun this Friday through the streets of the capital of Iraq, Baghdad, the massive "march of one million men" convened by Shiite cleric Muqtada al Sadr, one of the leading figures in Iraqi politics, to protest against the 16 years of American presence in the country, reports the Iraqi news agency NINA.
The demonstration has begun at the intersection of Al Jadiriya, and will advance along the main streets of the capital between strong security measures and under express prohibition to Iraqi politicians to go to the protest, to highlight the completely partisan nature of it.
"The time has come for the nation, independence and sovereignty," the cleric said Thursday in a statement on his website, in which he asked "to go to the support of the beloved, who are asking for help."
The words of Al Sadr arrive amid increased tensions in the country and the region after the death on January 3 of Iranian General Qasem Soleimani, head of the Quds Force of the Revolutionary Guard, in a bombing in the capital.
The cleric is the leader of the Sayirún political coalition, which has the largest number of seats in Parliament. He also founded the Mahdi Army in 2003 to respond to the US invasion of the country, a militia that was dissolved in 2008, although the cleric recently announced his revival.
In addition, he led the Saraya al Salam militia (Peace Brigades) since 2014, in the framework of the fight against the jihadist group Islamic State. This group was dissolved in 2018, with the exception of the units in Kerbala and Samarra, considered holy by the Shiites.
Al Sadr called on January 6 to call for the creation of an "international resistance regiment" made up of militias supported by Iran in response to Soleimani's death.
He also criticized the resolution of the Iraqi Parliament to approve the end of the presence of US military in the country and said it is a "pathetic response" compared to the acts of Washington, although he asked the militia "patience" and that "do not initiate military actions".
Soleimani died alongside the 'number two' of the Popular Mobilization Forces (FMP) – a coalition of Iraqi pro-government militias supported by Tehran -, Abu Mahdi al Muhandis, and several Iraqi militiamen, after which Iran promised to take revenge for the attack.
In response to the death of Soleimani, on January 8, Iran attacked two military bases located in Iraq with missiles in which American soldiers are deployed, in which Iran's supreme leader, Ali Jamenei, described Washington as a "slap" .