Hundreds of protesters hold protests in shopping malls in Hong Kong during Christmas day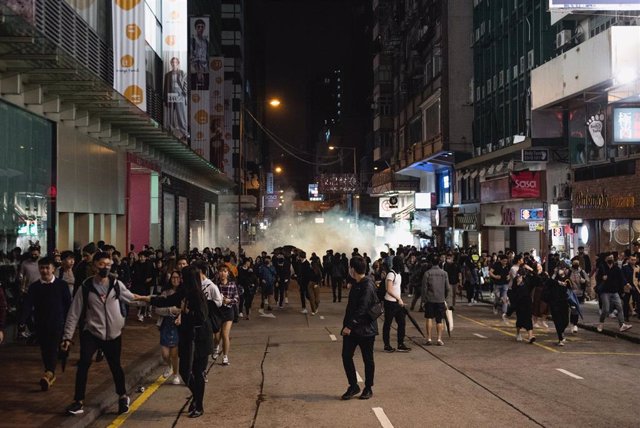 Protests in Hong Kong on Christmas Eve – Aidan March / SOPA Images via ZUMA / DPA
HONG KONG, Dec. 25 (Reuters / EP) –
Anti-government protesters marched through several shopping centers in Hong Kong on Wednesday, singing slogans in favor of democracy and promised to keep their protest throughout the day on Christmas Day, just one day after the violent clashes with police officers in A tourist district of the former British colony.
Demonstrations against the Chinese regime, which have intensified since June, have been mostly peaceful in most of December, after pro-democracy candidates were imposed in the district elections in November.
Despite the momentum of the protests in Hong Kong, the Chinese regional and state authorities have not made concessions to the protesters, despite acknowledging their defeat in the district elections. Protests have resulted in more clashes with security forces during the December holiday period.
This Wednesday, police riot agents have patrolled several points of tourist attraction in Hong Kong while tourists and shoppers continued their activities, some of them wearing Santa hats and reindeer headbands.
In images broadcast by television networks, police officers have been seen spraying pepper with a man who has been arrested in a mall in the district of Mong Kok, one of the most populous in Hong Kong.
Hundreds of protesters dressed in black and wearing masks have entered several shopping centers in the city, mixing with shoppers and shouting slogans in favor of democracy and calls to "free Hong Kong." Most shops have remained open this Wednesday.
On Tuesday, police loaded with tear gas to disperse thousands of protesters who barricaded several roads, painted buildings and damaged a Starbucks cafeteria and an HSBC branch.
The Hospital Authority has reported that clashes on the night of Tuesday through Wednesday have resulted in 25 injured people, including a man who fell from the second to the first floor of a shopping center while trying to escape the Police and another who He fell from the roof of a restaurant.
Demonstrations against the Hong Kong Government began more than six months ago by the decision to push for a law that would have allowed the extradition of suspects to mainland China but then led to a broader movement in favor of democracy and against the dominance of Beijing