Hundreds of fatalities from the 2004 tsunami remain unidentified in Thailand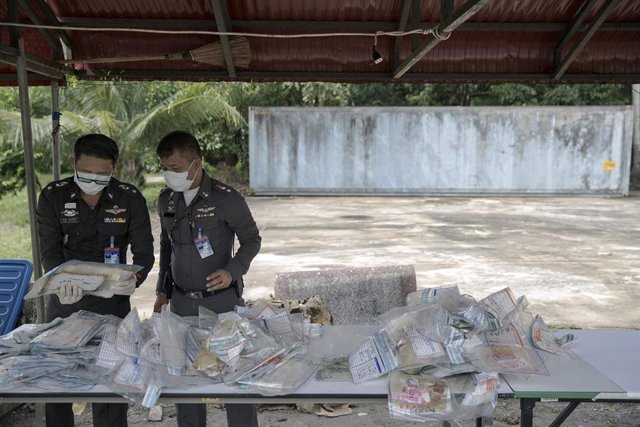 Police officers working on the identification of victims of the 2004 tsunami at a police station in southern Thailand – REUTERS / DAMIR SAGOLJ – Archive
TAKUA PA (THAILAND), Dec. 16 (Reuters / EP) –
The bodies of hundreds of fatalities of the tsunami that killed more than 230,000 people on December 26, 2004 in Indonesia, Sri Lanka, India and Thailand continue inside a container at a Thai police station waiting to be identified.
Inside the container are personal items such as wallets, documents, electronic devices, all of them cataloged as evidence and that the Police are confident that one day they will help identify the mortal remains that still remain without identity and that are in graves marked with numbers.
"There are still more relatives of the victims, both near and far, who have hope to find their loved ones," said Colonel Khemmarin Hassini, deputy commander of the Police in the district of Takua Pa, one of the areas most affected by the tsunami.
Caused by an earthquake of magnitude 9.1, the tsunami killed more than 230,000 people with waves that reached over 17 meters high and caused serious damage in more than a dozen countries, erasing entire communities in a matter of seconds.
In Thailand, where the tsunami killed more than 5,000 people, the Disaster Victims Identification Unit (IVD), consisting of police and forensics from 30 countries, has managed to identify more than 3,600 countries in two years, which It is the greatest success for such a project in such a short time.
Colonel Khemmarin, who is part of the international team, has said that fifteen years later "many identification channels have been closed" and many leads have been lost. "If we have sufficient determination and reactivate our operations again, I believe that some of the 340 unidentified bodies may be identified," he told Reuters from the town of Takua Pa.
Hin Temna, 76, who lives in the nearby village of Ban Nam Khem, lost seven relatives in the tsunami and is still looking for his eldest daughter. His relatives are among the more than 1,500 people who died in that town due to the tsunami. "It makes no sense to continue having hope (in finding my daughter). I don't think we will," he concluded.