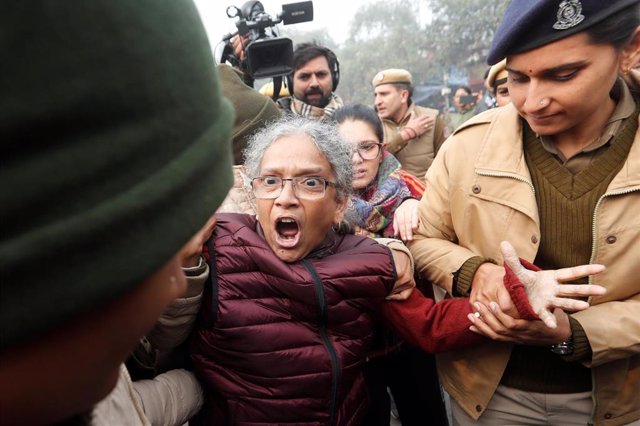 Police take a protesters in a protest against citizenship law in New Dehli – REUTERS / ADNAN ABIDI
Authorities block the Internet in several areas of the Indian capital and the police cut roads to prevent the arrival of protesters
MADRID, Dec. 19 (EUROPE PRESS) –
Hundreds of people have been detained by Indian security forces in protests against the controversial citizenship law that have been held on Thursday in at least ten states in India, as reported by the local television network NDTV.
Despite the restrictions imposed by the authorities to try to prevent protests, thousands of people have defied government orders and have demonstrated in the state of Uttar Pradesh, in the state of Karnataka and in the state of Delhi, in addition to the mobilizations registered in at least seven other states against citizenship law.
In most states, the competent authorities denied authorizations to hold protests on Wednesday night. In the capital of the country, in New Delhi, hundreds of protesters have been arrested on charges of breaching Law 144, which prohibits meetings of more than four people without authorization from the Government.
In Bengalore, in southern India, about 30 people have been arrested, including Ramchandra Guha, who has been arrested by police officers when he was making statements to the media during a protest against citizenship law.
Indian authorities have decreed the closure of the Delhi border with Haryana to prevent the arrival of buses full of protesters who wanted to join a protest in the Red Fort. In Sambhal, in the state of Uttar Pradesh, two buses have been burned, while in the town of Ahmedabad, in the state of Gujarat, the police have loaded batons against the protesters to dissolve the protests.
In New Delhi, the Indian capital, Internet voice and data services are blocked in several areas of the city, as is SMS mobile messaging, including the neighborhood where many of the Indian newspapers are based. The telecommunications company Airtel has said on Twitter that the Internet blockade has been carried out by "instructions from the Government" although it has later removed that message.
Among those arrested this Thursday are opposition leaders such as D Raja, Sitaram Yechury, Nilotpal Basu, Brinda Karat and Ajay Maken Sandeep Dikshit and activists such as Yogendra Yadav, Umar Jalid. Opponents have been arrested in demonstrations called before the Red Fort and the Mandi House palace in New Delhi.
Demonstrations against the law began last week in the state of Assam, in northeastern India. Since then, the mobilizations have resulted in violent incidents and have spread to universities across the country, where students have chanted chants against the government of Prime Minister Narendra Modi, and have denounced that the rule is "anti-Muslim and unconstitutional."
The Law on the Amendment of Citizenship states that migrants from Afghanistan, Bangladesh and Pakistan from religious minorities such as the Sikhs, Christians and Hindus who arrived in India before 2015 because they were persecuted in their countries of origin are entitled to Indian citizenship .