Hubei confirms 14,840 new infections and 242 deaths after readjustment of calculation method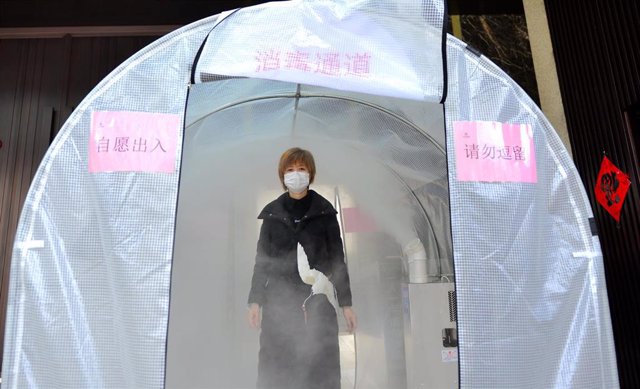 A woman walks through a disinfection canal located in the city of Hefei in western China. – Ge Chuanhong / SIPA Asia via ZUMA / DPA
BEIJING, 13 (Xinhua / EP)
The medical authorities of Hubei Province, where the town of Wuhan is located, the epicenter of the coronavirus outbreak, have reported Thursday that 14,840 new cases of infection have been confirmed, as well as 242 deaths on Wednesday, after it has been The method of calculating the cases has been adjusted.
The provincial Health Commission has explained that the figure includes 13,332 clinically diagnosed cases, which as of Thursday are considered confirmed cases, as this can facilitate timely standard treatment and achieve higher success rates in the recovery of patients.
Clinically diagnosed cases are something exclusive for Hubei in terms of statistics, and their inclusion is the reason for the notable increase in the number of confirmed cases.
Thus, any suspicious case based on computed tomography results is considered as clinically diagnosed, according to the latest version of the diagnosis and treatment scheme disclosed by the Ministry of Health of China.
Hubei health authorities have indicated that, in this way, timely standard treatment can be facilitated and higher success rates in patient recovery can be achieved.
With the new adjustment, Hubei is the province most affected by the outbreak of coronavirus, because so far 48,206 cases of infection and 1,310 deaths have been recorded.
Local authorities have added that as of Wednesday, 3,441 people have been discharged after recovering. As for the 33,693 patients who remain hospitalized, 5,647 are in serious condition and 1,437 are in critical condition.
MORE DOCTORS IN WUHAN
Given the situation in the province, the Government has deployed in the capital, Wuhan, a total of 2,600 health professionals of the Armed Forces, who will be responsible for treatments in two hospitals, the Taikang Tongji and a branch of the Maternal Hospital Hubei child.
Although China is the epicenter of the outbreak and the most affected country, the coronavirus has already spread to other countries in Southeast Asia and cases have also been detected in Europe and America. Outside of China, two people have died from the virus. The first in the Philippines and the other in Hong Kong.
Common signs of virus infection, whose official name is Covid-19, include respiratory symptoms, fever, cough and shortness of breath. In more severe cases, the infection can cause pneumonia, severe acute respiratory syndrome, kidney failure and even death.
In 2003, more than 600 people had died in China because of the outbreak of SARS or acute respiratory syndrome that was first detected in 2002, while the global figure reached 765 deaths.