HRW denounces that US border agents deny entry to Mexican asylum seekers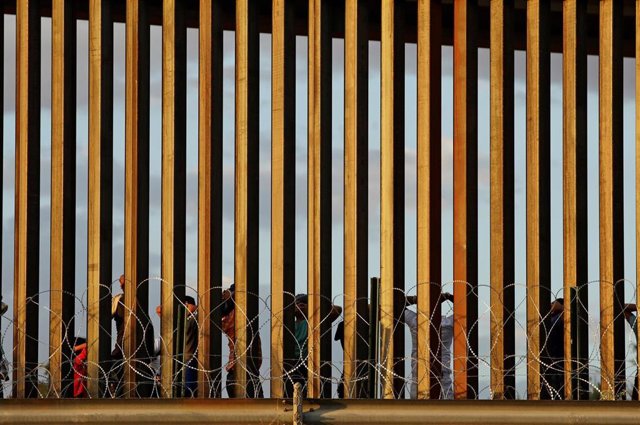 Image of the border between Mexico and the United States. – REUTERS / JOSE LUIS GONZALEZ – Archive
MADRID, Dec. 23 (EUROPE PRESS) –
The NGO Human Rights Watch (HRW) has assured Monday that US border agents deny entry to the country to Mexican asylum seekers, something that endangers thousands of people, including families with children, and violates the rules International
Several dozen Mexican asylum seekers in Ciudad Juarez have told the organization that in November they had to return to their country after being rejected at a point of entry into the United States, HRW reports in a statement.
"The rejection of the (Donald) Trump Administration to Mexican asylum seekers at the border is another example of their campaign to annihilate protection for asylum seekers," said the researcher for the United States program at HRW, Clara Long
"The ban on returning refugees to the country they are fleeing from, also on the border, is part of the obligations of International Law," Long recalled.
The NGO has accompanied 46 Mexican asylum seekers, of whom about half were children with their parents, to the border between Ciudad Juarez and El Paso. The agents of the Border Protection Agency (CBP) of the United States were telling them that the entry point was "too full", they have assured from the organization.
Therefore, they have denounced that the agents denied entry to at least two Mexican families and one adult, after they "explicitly" informed that they were fleeing from Mexico and wanted to request asylum in the United States.
RESPECT INTERNATIONAL LAW
From the NGO they have recalled that all countries, whether or not they signed the 1951 Shelter Convention, are obliged to respect the principle of non-refoulement – the obligation that governments have not to return people to a country where they are at risk or they can be persecuted, tortured or receive inhuman treatment.
At this point, HRW has detailed that in April 2018, US immigration agents carried out a "measure" policy that consisted of allowing a limited number of asylum seekers per day.
Likewise, this policy was initially applied to non-Mexican applicants, since according to the organization the US agency understood that it could not expose asylum seekers from the neighboring country to persecution.
However, from HRW they have assured that this situation has changed and that the United States has begun to count Mexican asylum seekers. According to a study, about 11,000 people are waiting to enter the United States since November. If all nationalities are taken into account, this number amounts to 21,398.
"FEAR FOUNDED"
HRW has argued that the American Civil Liberties Union (ACLU) filed a complaint with the U.S. Department of Homeland Security with 18 examples of families and asylum seekers who had suffered this count in Ciudad Juarez and Matamoros.
"The Mexican families we represent have been camped in precarious conditions at the ports of entry into the United States for months trying to get security in the United States," confirmed the lawyer of the Catholic Immigration Network Tania Guerrero.
"Many people we are following have finally been admitted and have passed the interviews demonstrating an opportunity to continue their asylum request based on a well-founded fear of being persecuted in Mexico. Most of them say they don't feel safe during the months that they are waiting in Juarez, "said Guerrero.
Night temperatures in Ciudad Juárez have reached below zero with hundreds of asylum seekers from Mexico who are still waiting on three bridges between Ciudad Juarez and El Paso, according to Hope Border Institute analyst Edith Tapia.
From HRW, they have ensured that agents from Ciudad Juarez have pressured migrants encamped on the bridges to move and threatened to do so by force. For their part, according to the newspaper 'El Paso Times', Mexican applicants reject the assistance of the Government because they do not trust them.
HRW has urged the United States Congress and the United Nations High Commissioner for Refugees (UNHCR) to investigate Trump's treatment of asylum seekers at the border. Also, it has demanded that border agents guarantee that there is a deal that meets international standards.
"The senior US officials are breaking their obligations to receive asylum seekers fleeing persecution," said Tapia, adding that if they return them to Mexico, "they are putting their lives in danger."