How one doctor shares inspiring thoughts of children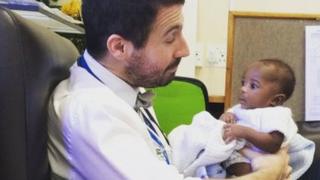 When a palliative paediatrician in South Africa saw too many negative stories appear on his Twitter feed, he decided to share some positive, inspiring thoughts of the terminally ill children in his care.
Alastair McAlpine, from Cape Town, tweeted: "I asked some of my terminal paediatric palliative care patients what they had enjoyed in life, and what gave it meaning. Kids can be so wise, y'know. Here are some of the responses."
Mr McAlpine told the BBC he wanted to write something uplifting, and was overwhelmed when he saw hundreds of responses to his tweet, which has been liked more than 10,000 times.
At first he tried to respond to each comment. He said: "It's extraordinary. I believe in thanking people when they say something nice, but there were just too many for me to reply to all of them."
None of the children, aged between four and nine, said that they wished they had watched more television, or spent more time on Facebook.
Animals played a huge part in their lives as they enjoyed talking about their pets. Mr McAlpine tweeted examples: "I love Rufus, his funny bark makes me laugh; I love when Ginny snuggles up to me at night and purrs; I was happiest riding Jake on the beach."
Mr McAlpine trained in palliative care in May 2017 after he saw a huge gap in paediatric care.
"When it came to kids dying, it seemed we weren't prepared for what to do. The best part of my job now is that I get to meet these extraordinary children and families. I walk a special road with them," he says.
"As horrible as it is when a child dies, one of the best rewards is a dignified and pain-free death. If I can make their lives slightly less bad, it's worthwhile. That keeps me going."
One person who was impressed with the paediatrician's tweets, was Canadian obstetrician, Dr Jennifer Gunter, who has frequently written about Gwyneth Paltrow's advice on the actress's lifestyle website.
"I was pretty star-struck when I saw Jennifer's comment. My partner will probably roll her eyes at me. I think she's liked a grand total of two of my tweets."
Some people online asked how the paediatrician copes with working with terminally ill children, while others just admired both the medical staff and the children:
After a child's death, parents often continue a relationship with their child's doctor, which Mr McAlpine says is a "huge compliment."
From his online thread, the children also worry about their parents as one of his tweets read: "Hope mum will be OK; Dad mustn't worry, he'll see me again soon."
You might also like:
Mum writes book for children to explain terminal illness

Terminally ill teenager marries high school sweetheart

Grandfather's model railway masterplan for terminally ill boy
All of the children loved ice cream and books. But many wished they had spent less time worrying about what others thought, and about losing their hair or how their scars looked.
It's no surprise that kindness, laughter, toys and family were all very much valued by the children. As his threads unfolded and the comments poured in, Mr McAlpine left this take-home message: "Be kind. Read more books. Spend time with our family. Crack jokes. Go to the beach. Hug your dog. Tell that special person you love them… and eat ice cream."
Working in palliative care can be heart-wrenching, but Mr McAlpine says he works with some "lovely people" at Paedspal Cape Town – a programme providing care for terminally ill children.
"It's an extraordinary team. We believe in a holistic approach to care.
"The negativity can get me down. But I glean inspiration from the parents of these children."