How do companies win government contracts?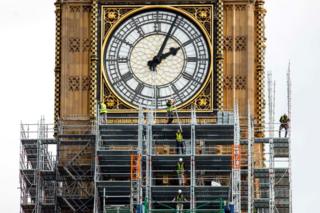 The collapse of the construction firm Carillion has a shone a light on the issue of public sector procurement.
Every year the government spends billions of pounds on thousands of private sector contracts, ranging from global companies to sole traders.
But how does a private company win a contract in the first place and what precautions does the government take to protect taxpayers' money?
The National Audit Office (NAO) estimates that just over £250bn of central and local government money went to private suppliers in the 2015-16 financial year.
That's about one-third of total government spend. Central government departments and the NHS accounted for around £136bn.
There's a vast range of different types of commercial agreements in place, such as buying drugs for the NHS, purchasing aircraft carriers for the Ministry of Defence or providing catering and cleaning services.
For smaller companies in England the starting point is often the contracts finder website. This is where private firms can look for opportunities to win national and local government contracts worth more than £10,000.
Wales, Scotland and Northern Ireland have their own dedicated public sector procurement websites.
The Cabinet Office says it "expects highly competitive bids and the highest standards" from its potential suppliers.
Applications will usually require a written bid which is then "scored" by the government department or agency. After the applications are whittled down, bidders will normally be interviewed by a panel of experts in the relevant field.
"Scoring is often done on different parts of the contract," explains Colin Talbot, professor of government at the University of Manchester, who has experience at tendering for contracts.
"For example 'quality' and 'price' might be done by different civil servants."
The scoring criteria is meant to be a fairer way of choosing suppliers. It means civil servants can't just choose their favourite bid after reading them all.
In the case of very large contracts, it's more likely a minister – rather than the civil servants – will have the final say.
But despite this lengthy process, why do some companies still end up failing to deliver?
Low bidders 'can appear attractive'
Rob Whiteman oversaw the procurement process at the government's UK Border Agency, where he used to be chief executive. He now heads up the Chartered Institute of Public Finance and Accountancy.
He worries public contracts are too often awarded to low bidders.
"Low bidding can appear attractive to procurement officers because they know they will be judged on value for money. But I think there is a bear trap," he explains.
"If we overscore cost in the evaluation then we risk squeezing contractors' profits and if they've got their sums wrong they may take their best staff off the contract and the taxpayer gets a sub-standard delivery."
Another concern raised by Mr Whiteman is a lack of focus on the companies' financial robustness during the tendering process.
He thinks that while civil servants look at a firm's track record for delivery, more questions need to be asked about how financially sound the company is before awarding a contract.
How does the government manage a contract?
Companies with the biggest government contracts are known as "strategic suppliers" and since 2011 each one has been assigned a Crown Representative – someone who usually has a business background – to manage their relationship with the government.
There are currently 29 government strategic suppliers, including Carillion.
The Crown Representative is required to carry out a review of their strategic supplier every three months. If there are concerns, the representative can recommend that the supplier is given a special "high risk" status.
If this happens, the supplier is required to come up with an "improvement plan".
The government says that being designated "high risk" is not a "name and shame policy" and therefore the names of the suppliers falling into this category are not published.
But that means other public sector organisations may not know a supplier is experiencing problems.
It is not clear what steps either a minister or the civil service take next if a company is designated "high risk". The BBC has asked the Cabinet Office, but we have not received a response.
Last month the NAO criticised the government's approach to procurement saying that "poor management of contracts is a long-standing issue".
For example the report criticises the Ministry of Justice's 2017 electronic monitoring programme. It says the department tried to split up its existing contract, creating four different providers. This led to "compatibility issues" and concerns over sharing information.
The NAO said the department's approach to procurement was "high risk and unfamiliar" which made the planned timetable for delivering the programme "unachievable".
However the report did say that overall the "government is now taking the issue [procurement] seriously and reforms since 2013 are going in the right direction".