How Courtney Barnett turned a troll's words against him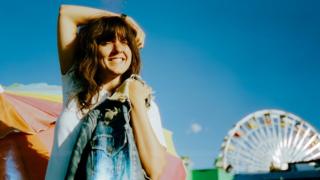 Shortly after Courtney Barnett released her debut album, a friend forwarded her a comment someone had made about the music.
"I could eat a bowl of alphabet soup and spit out better words than you."
Rather than taking offence, the singer found it so funny she stuck it into one of her new songs – Nameless, Faceless – along with a withering response.
"Must be lonely, being angry... I'm real sorry 'bout whatever happened to you."
The line is part of the song's broader take-down of male aggression, prompted by the anonymously-written screeds of "hurt and anger" Barnett saw online and in real life.
In the chorus, she adapts a Margaret Atwood quote – "Men are scared that women will laugh at them / Women are scared that men will kill them" – to explain how she feels unsafe walking home at night, clutching her keys between her fingers, ready to strike any assailants.
"A lot of my guy friends didn't understand the reference," says Barnett of the well-known (but largely discredited) self-defence technique; which she's used "a lot" in her own life.
"I grew up working in pubs and I'd walk home late, so it was a constant thing for me."
That little observation, so banal but so powerful, is typical of Barnett's forensically detailed writing.
On Depreston, one of the stand-out tracks from her first album, she sarcastically skewered the gentrification of Melbourne's suburbs through a tale of house-hunting with her girlfriend, the musician Jen Cloher.
"We don't have to be around all these coffee shops," she sang. "Now we've got that percolator / Never made a latte greater / I'm saving twenty-three dollars a week."
No wonder NPR christened her "the best lyricist in rock music today".
The 30-year-old composes her couplets in an exhaustive process of over-writing and condensing.
Every song starts with "pages and pages" of notes, she says. "A quarter ends up being in the song and 75 [per cent] is elsewhere."
"I always have this feeling that there's so much music and so many songs, and I'm just adding to this pile of stuff. So I really try to cut it down to the strongest words."
Certainly the writing on her new album, Tell Me What You Really Feel, is more concise and direct than its Grammy-nominated predecessor, without sacrificing any of the wit or affability.
At its heart, the album deals with self-doubt and how you can turn it to your advantage.
"Your vulnerability [is] stronger than it seems," sings Barnett on Hopefulessness, a low and dirty dirge that's effectively her personal motto.
"I have always been a more… not negative, but more melancholic person," explains the singer.
"I was just making an effort to try to be aware of it, and to turn those first thoughts that come in to [point] the other way."
It's a theme she returns to several times on the record – finding balance within yourself and your relationships and striving to see the best in others. As she observes on Help Your Self: "Darkness depends on where you're standing."
Perhaps because the songs were so personal, Barnett originally recorded them by herself, layering up the instruments one-by-one like Stevie Wonder or Sufjan Stevens.
But she wasn't pleased with the results, so she convened her band in the studio and set about rebuilding them from scratch.
Musically, the album is more accomplished than the scuzzy garage rock of her debut, with a squalling guitar solo on Hopefulessness and soaring harmonies (courtesy of The Breeders' Kim Deal) on Nameless, Faceless.
"I guess I felt like more of a competent musician after years of playing," she says.
"And I pushed myself to break through barriers where I would normally stand up and procrastinate or walk away."
You may also like to read:
Her easy-going, conversational singing style remains intact, but there are moments where she explores new tones – like the dreamy falsetto she adopts on the single Need a Little Time.
"I'm always on the lookout for what I can do differently," she says. "It's fun to go for vocal spots you don't normally go for."
Born in Sydney, Barnett spent her teens in Tasmania, where she was a competitive tennis player.
"Did I win? Yeah, sometimes. I don't think I could have actually been a professional tennis player, though."
She eventually ditched tennis racquets for actual rackets, moving to Melbourne to attend art school and play guitar in a succession of indie bands, supporting herself by serving drinks and selling shoes.
"I think I was pretty good at sales," she laughs. "It became a bit of a game – and it was a good study of human behaviour.
"Some people were so unnecessarily rude and some people were so open and kind. It was a really nice look into people."
Friends and acquaintances might see glimpses of themselves in Barnett's songs, but many of her lyrics are compiled over years, compressing several people and situations into an overarching narrative.
Take the new single City Looks Pretty. A melodic slice of grunge-pop it began in her early 20s, when the musician "was on anti-depressants and wouldn't leave my room" for 23 days at a time.
When she eventually emerged, it was for a restorative walk around the city, where "strangers treat you like their best friend" – much to the concern of her real friends who were "worried about where I was".
But the song is also an allegory for the alienation you feel when you're "away from home and travelling and touring," says Barnett.
"The lyrics adapt to each other in different ways. So it's a strange mix."
Like many of the new songs, City Looks Pretty sees Barnett refusing to be crushed by the weight of the world: "Sometimes I get sad," she sings in the chorus. "It's not all that bad".
By the end of the album – on the contemplative, tender Sunday Roast – Barnett is taking succour from friends as they gather around the dinner table.
"The overall idea in that song is community," she says.
"We tend to base our lives around food; and lots of conversations happen at meals. That sense of friendship and love revolves around it, in a way."
No let downs
The success of Barnett's 2015 debut took the unassuming singer-songwriter around the world, playing on Saturday Night Live, attending the Grammys and sharing a bill with her musical heroine Patti Smith.
Was she surprised to find herself thrust onto the world stage so quickly?
"I tend not to think about it," she says. "But for who I am and the kind of music I play, it's really nice that sometimes it sits beside those other, bigger things.
"It makes it exciting – and it's an incredible position to be in, with a big crowd on the other side of the world, singing your songs."
Early reviews for the new album suggest the singer will go on to even bigger and better things in 2018 – but she's not making any assumptions.
"I'm not good at setting those goals for myself," she says. It's almost like when you do, it becomes stressful, and if they don't happen it's a let down.
"So I just try to amble along."
Courtney Barnett's album, Tell Me How You Really Feel, is out on 18 May. She plays the 6 Music stage at BBC Music's Biggest Weekend in Belfast on 25 May.
Follow us on Facebook, on Twitter @BBCNewsEnts, or on Instagram at bbcnewsents. If you have a story suggestion email entertainment.news@bbc.co.uk.