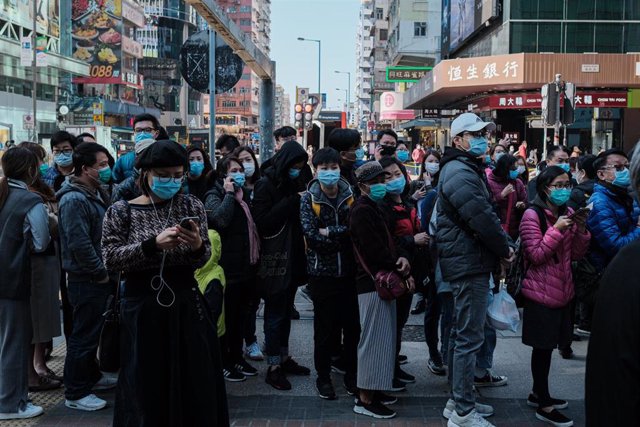 Masks in Hong Kong – Keith Tsuji / SOPA Images via ZUMA / DPA
MADRID, 1 Feb. –
Thousands of doctors, nurses, and other hospital workers have voted this Saturday in favor of a strike that could begin this Monday in order to demand the closure of the border with mainland China to avoid contagion of the new coronavirus originated in Wuhan and that has already killed 249 people.
Hong Kong toilets go on strike to demand the closure of the border by the coronavirus
The call is part of the Alliance of Hospital Authority Workers, a pro-democratic union, which raises a five-day escalation mobilization calendar to force the border to close, reports the newspaper 'South China Morning Post'.
Specifically, of the 3,156 participants in the voting process, 3,123 voted in favor of motion 3,123 and only 10 did so against it. There were 23 abstentions and eight null votes.
Hong Kong Health Minister Sophia Chan Siu Chee has expressed her concern about a possible strike shortly before the vote and has even cried publicly for it. The president of the Hospital Authority, Henry Fan Hung Ling, has also asked the union, formed in December, to think its decisions.
The union also asks for the closing of the borders, the guaranteed supply of masks, the suspension of non-urgent services, an increase in isolation sections in hospitals and the guarantee of non-retaliation for those who participate in the strike.
"If the Government does not satisfy our advice, we will adopt other strategies with professionalism and complying with labor legislation, which provides for strikes, requests to the Government on epidemics and the recommendation to close the border," said the union.
The Chinese authorities have confirmed the death of 259 people as a result of pneumonia caused by the new coronavirus and 11,791 affected. Up to 243 people have recovered from the disease, according to the National Health Commission of China.