Hong Kong strengthens security before Sunday's anti-government march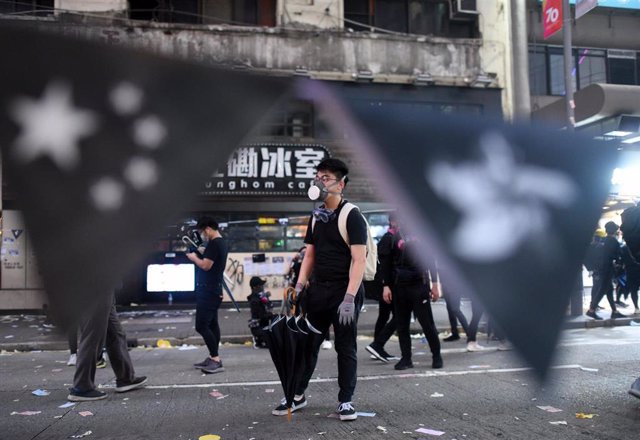 Protesters in Hong Kong protests – Mehdi Chebil
HONG KONG, Oct. 20 (Reuters / EP) –
Hong Kong has strengthened security in the city as a preliminary measure to the anti-government march planned for this Sunday, with some subway services suspended and public facilities closed.
In addition, the Police have banned the march in the Hong Kong district of Kowloon, the center of violence in recent weeks, raising concerns about public safety.
The city's subway operator, MTR Corp Ltd, has confirmed that some trains will not stop at Kowloon and that they will close the subway network two hours before 10 pm.
Also a court has warned this Saturday that the fate of the march, the main railway exchange with mainland China, could be "attacked and destroyed."
Authorities rejected permission for the demonstration this Sunday, citing risks of violence and vandalism, which has increased in recent weeks as protesters, dressed in black, have burned subway stations, banks and Chinese stores.
The Human Rights Watch (HRW) reported that police measures seemed to be aimed at convincing people not to attend the rallies.
For their part, the pro-democratic leaders of the protests, which have been going on for more than four months in the Asian financial center, have urged citizens to join the march despite the risk of arrest.
After a week of relative calm, this Sunday's demonstration will test the strength of the prodemocratic movement. Activists have promised that the protest will continue despite the fact that the police said the concentration was "illegal."
Hundreds of people have attended a prayer session in the financial district on Saturday. Other protesters have formed a human chain along the entire metro network. Many have used masks, challenging the prohibition of covering their faces in public demonstrations.
Thousands of people have challenged the Police in recent months and organized mass demonstrations without permission, peaceful at first and then violent.
The trigger for the protests in Hong Kong was a proposal now withdrawn to allow extradition of criminals to China, as well as to Taiwan and Macao. The case of a Hong Kong man accused of killing his partner in Taiwan before fleeing to Hong Kong was presented as an example of why the proposal was necessary.
More than 2,600 people have been arrested since protests increased in June. Since then, the protesters' demands have also increased well beyond opposing the extradition proposal. Now they also express concern that Beijing is eroding the freedoms granted when the United Kingdom returned the city to China in 1997.
The Chinese government denies such accusations and has blamed foreign countries such as the United States and the United Kingdom for inciting the riots.
Protesters say they will continue to demand that the Government address their universal suffrage demands, an independent investigation into police behavior, amnesty for the accused and stop describing protesters as agitators.