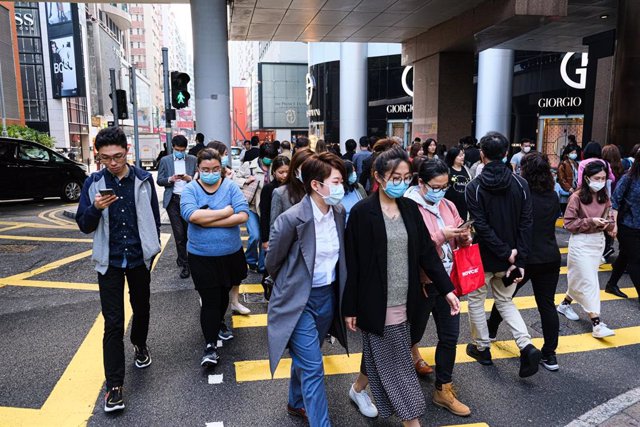 Hong Kong residents protect themselves from possible contagion of coronavirus – Keith Tsuji / ZUMA Wire / dpa
MADRID, Jan. 26 (EUROPE PRESS) –
Hundreds of protesters in Hong Kong have set fire on Sunday the ground floor of a building where authorities had proposed to house a quarantine compound for the coronavirus, originated in central China and has cost the lives of half a hundred people.
Hong Kong protesters set fire to one of the possible quarantine enclosures for the coronavirus
The crowd broke into what was originally conceived as a public housing block in the town of Fanling, bordering mainland China. The chief executive of Hong Kong, Carrie Lam, had proposed the change of use, further infuriating protesters who have been calling for resignation for months.
While the Hong Kong Government quickly clarified that the plan was not firm, at least 200 people ended up entering the main building and threw gasoline pumps inside.
The riot police and fire trucks made an immediate presence in the place. Agents arrested an unspecified number of people, according to the 'South China Morning Post'.
After the riots, the Hong Kong Government has sent a statement calling for calm to the population and "recognizes and understands that the concern of some residents about the declaration of this property."