Hong Kong Police use tear gas to disperse a demonstration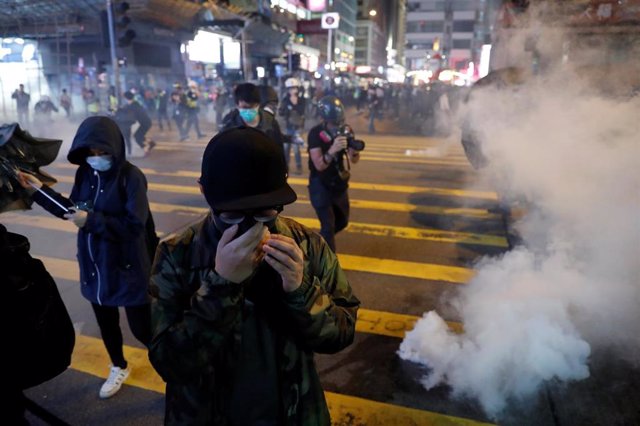 Protests in Hong Kong – REUTERS / TYRONE SIU
HONG KONG, Dec. 25 (Reuters / EP) –
Hong Kong riot police have used tear gas to disperse thousands of protesters, many of whom wore masks, after clashes in shopping centers and in a tourist district, as prodemocracy rallies increased on Christmas Eve.
Protesters inside the malls have thrown umbrellas and other objects at the Police, which have responded by hitting some protesters with batons and an agent has pointed his gun at the crowd, but has not fired.
Some protesters have also occupied the main roads and blocked traffic on the outskirts of the shopping centers and luxury hotels in the tourist district of Tsim Sha Tsui in Kowloon.
Many families with children had come to the area to see the Christmas lights along the promenade.
"A lot of people are buying, so it's a good opportunity to spread our message and tell people why we're fighting," said Ken, an 18-year-old student. "We fight for freedom, we fight for our future," he added.
The protests in Hong Kong, which began more than six months ago, have lost the intensity of previous violent clashes, but a month ago, at least 800,000 people participated in a peaceful demonstration in favor of democracy, according to organizers.
The anti-government protests have been developing in the financial center of the city, as the anger of the Hong Kong people grows because of what they consider to be a Chinese interference in the freedoms that were promised to the British excolonia when it returned to be under Chinese rule in 1997.
Beijing has blamed the protests on "foreign forces" and has claimed that attempts to interfere with the city's Chinese governance are doomed to fail.