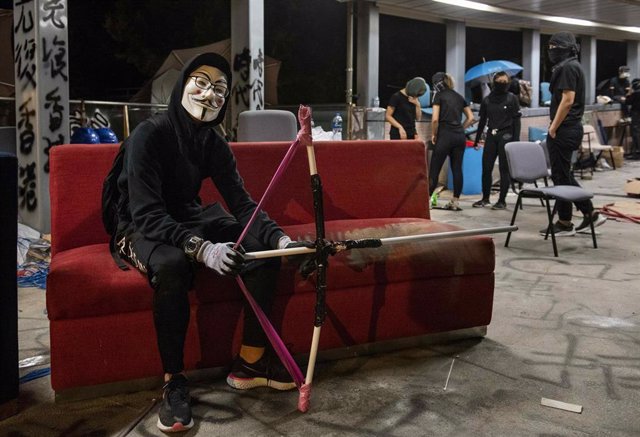 Protests at the Hong Kong Polytechnic – Miguel Candela / SOPA Images via Z / DPA
MADRID, Nov. 17 (EUROPE PRESS) –
The Hong Kong Police have warned the protesters entrenched at the Polytechnic University of the city that they will start using real ammunition if they continue to throw Molotov cocktails at the riot device they have been facing for hours in one of the most violent episodes since the beginning of the protests against the Government and the authorities of Beijing, last March.
Hong Kong Police threaten to use real ammunition against protesters of the Polytechnic
In a Facebook video, a police spokesman warns protesters to stop using Molotov cocktails, arrows, cars or other lethal weapons to attack security forces.
"If they persist, we will have no choice but to use an essential minimum of force, real ammunition included," as a spokesperson warned in a video posted on social networks collected by the RTHK network.
At least three people have been shot with live ammunition since the beginning of the second phase of protest riots in June, including a 21-year-old student who was shot in the torso last week.
So far, skirmishes have resulted in an unspecified number of detainees and at least one police officer injured from a crush on one leg without fearing for his life. The clashes have occurred both in the street and inside some Polytechnic classrooms, such as the Independent Language Learning Center, where a police smoke bomb has exploded.
The increase in tension was due in part to the presence yesterday in the streets of Hong Kong of a group of Chinese military to collaborate in the cleaning tasks and dismantle the barricades of the protesters, an extremely unusual decision given that soldiers usually remain quartered and rarely interact professionally with the population of the territory so as not to warm up.
The clashes began around 10 in the morning when at least one hundred people began to remove the barricades from the immediate vicinity of the Polytechnic, at which time dozens of protesters ordered them to give up and leave the place immediately.
Several units of the riot police and at least two water cannons were immediately presented at the scene, which gave rise to the exchange of Molotov cocktails, stones, smoke grenades and jets of water dyed blue to facilitate the identification of protesters.
The Polytechnic is considered as the last redoubt of the group of protesters that has been occupying the universities of the territory all week, in a concerted action that has led to the overcoming of classes in all the centers of study of the territory until, at least, this Monday.