Hong Kong Police detonate a bomb of alleged protesters against the Government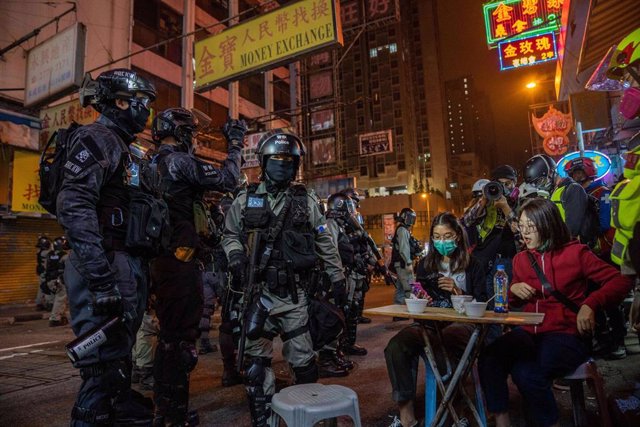 Hong Kong Police officers during the police operation deployed during the day of protests on the eve of Christmas Day (2019). – Geovien So / SOPA Images via ZUMA / DPA
HONG KONG, Jan. 15 (DPA / EP) –
The Hong Kong Police have arrested four men accused of possessing "protest-related materials" on Wednesday, including several explosives and a pipe bomb that has been detonated while attempting to deactivate, during a raid on the night of the Tuesday in the residential neighborhood of Mong Kok.
The main superintendent of the Police, Chan Tin Chu, has detailed that the bomb was "very powerful" and that when trying to deactivate it there has been a small explosion that has caused damage to a building.
"Shrapnel pierced one of the building's elevators," Chan Tin Chu told Chinese television network RTHK.
Police have also carried out the search of a house in Sheung Shui, a city near the Hong Kong border with China, which, they suspect, was being used as a laboratory for the production of explosives.
Hong Kong has been plunged into a serious crisis since protests erupted last June against a controversial bill of extradition to China.
The head of Government of the region, Carrie Lam, finally withdrew the bill, but the protests continued with greater demands, including universal suffrage.
Since then, there have been more than 6,000 arrests, and about 1,000 people have been charged. Pro-government protesters have accused the courts of not doing enough to help curb the wave of unrest.
On the other hand, protesters opposed to the Government protest, in addition, for what they consider as a growing interference from Beijing in Hong Kong, which returned to Chinese rule in 1997. China denies the interference and has accused foreign governments, including the United States and United Kingdom, to provoke the situation.