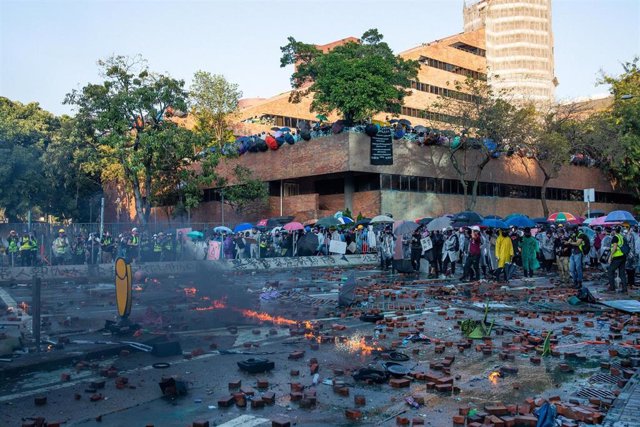 Protests at the Hong Kong Polytechnic University – Todd Darling
HONG KONG, Nov. 18 (DPA / EP) –
A senior government of Hong Kong has ensured that the latest clashes in the framework of protests against the Executive suggest the possibility of having to postpone the holding of the district elections called for this Sunday.
Hong Kong authorities do not rule out postponing local elections over protests
The message of the Hong Kong government official comes after the Police have broken into the Hong Kong Polytechnic University, an episode that has resulted in the most serious clashes between protesters and security forces in recent times.
Several of the candidates for the district elections this Sunday have been attacked in recent weeks, including several prodemocracy candidates and Junius Ho, a controversial parliamentarian related to the Beijing regime and whose critics link with criminal groups.
The secretary for Continental and Constitutional Affairs of the Hong Kong Government, Patrick Yip, has warned that this weekend's protests and violent incidents reduce the chances of holding district elections this weekend.
"I must say that the postponement of the elections is a difficult decision and that we will not take this step until it is absolutely necessary," Yip said, according to local radio network RTHK.
Yip has stressed that, in order for elections to be held, violence, barricades and the destruction of public transport facilities must end. The Government has already said that it will work with all its capacity in the preparation of the elections although it has stressed that its main priority is to end the violence.
This Monday, the Polytechnic University of Hong Kong has been surrounded by riot police officers, who have established a security cordon. The night before, the police gave an ultimatum to the students to leave the center before 10 pm. Agents have ended up breaking into the school at 5:00 on Monday and arrested dozens of students inside.
University campuses have become the epicenter of clashes between protesters and security forces agents since last week, with the Polytechnic University being the last center still with students present.
Protesters concentrated on campus by lifting barricades and throwing Molotov cocktails at the Police and even firing arrows with bows. In addition, they blocked transportation routes to prevent residents of the area from going to work.
Hong Kong's protests began in June over the attempt by the local government to pass a law that would have allowed suspects arrested in the former British colony to be handed over to the Chinese continental authorities. Since then, the protest movement has evolved and focused its demands on the defense of democratic reforms and the rejection of Beijing's dominance.