Home Office investigates sending couple wrong documents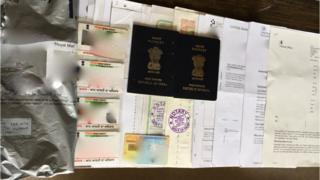 The Home Office has launched an urgent investigation after a couple was sent strangers' personal documents.
They were sent passports, birth certificates and bank statements as part of a residence application.
"We will be fully investigating how this was able to happen," a Home Office spokesperson said when contacted by BBC News.
Earlier this year, five people in Scotland received strangers' passports in the post.
Chris, from Taiwan, had applied for a UK residence card with his civil partner Tom as his British sponsor – the couple currently live in London.
Their own application and supporting documents have yet to be returned to them.
"We received two passports, bank statements, employer letters, a Home Office letter, birth certificates, photocopies of other passports, HMRC and council tax documents and a tenancy agreement belonging to strangers on 16 March," Tom said.
"My parents' supporting documents are also unaccounted for. They are retired and their savings accounts might be compromised," he added.
"It involves four nationalities and people who might be deported without knowing.
"We need an answer about where our documents are."
'We feel devastated'
He added: "It has been three weeks and despite repeatedly asking the Home Office to collect the documents, we still have them.
"It is inconceivable that the Home Office could have mistaken these for our documents.
"We feel devastated and have been very stressed by the situation.
"The Home Office should never have made this mistake and should have contacted us all to fix it.
"It is extremely concerning that people's identities could be misdirected like this."
Investigation
Tom found an employer's phone number among the documents which were sent to him and used that to track down the other family, who are also based in the UK.
"The other family has been rejected by the Home Office and seemingly not informed," Tom said.
"We are shocked," one of the passport owners told the BBC. "How come this happened to our original, confidential documents?
"The documents belong to me and my sister and our extended family, We are trying to speak to our solicitor."
A total of 472 passports were lost during delivery in 2016, compared with 375 in 2015, according to official figures.
In a statement to the BBC, the Home Office said: "We take the security of customer documents very seriously and will be fully investigating how this was able to happen… the couple should return the documents to us."