Hemsby cliff-top structures fall into the sea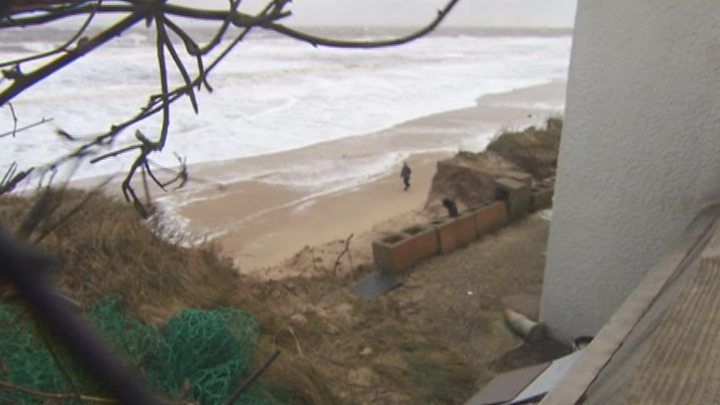 Cliff-top structures have collapsed into the sea off the coast of Norfolk due to the bad weather.
The coastguard said a wooden shed and an oil tank fell into the sea at Hemsby as high winds and waves further eroded the dunes.
Residents of 10 chalets "perilously close" to the cliff edge have been told to leave their homes for safety.
One homeowner, Stephen Chadwick, said it felt like an "earthquake" as the cliff gave way.
"I bought it for sea views, beautiful sea views, and now the sea's taking it away," he said.
Speaking on Saturday he added: "I woke up this morning, had a cup of coffee at half past seven, the back door, and I felt… it was like an earthquake, and the cliff just went.
"I'm just in total shock."
Dozens of residents formed a human chain to help salvage the possessions of those affected.
Chris Batten, from Hemsby Independent Lifeboat, said five properties were probably at highest risk, adding that one was "teetering on the edge of the cliff and it wouldn't take much for it to start to fall into the sea".
Taking selfies
Villagers evacuated from their homes have spent the night in a nearby hall, pub and holiday chalets.
Paul Ray returned to his home this morning. He said he was "devastated" to find it was "not safe to live there at all".
He had lived in the bungalow for eight years with his wife and two dogs.
"You can't go round the back, if you did you'd go straight on to the beach," he said.
Great Yarmouth Borough Council are at the scene with the Environment Agency assessing the situation for the residents.
Norfolk Police said on Saturday that six of the properties had "a very good chance" of collapsing into the sea overnight.
Gorleston coastguard has also warned members of the public to stay away from the area due to it being unsafe.
"Not only are you putting your own life at risk, but those that will have to rescue you when it goes wrong," a spokesperson for the service said.
The warning came after an individual was spotted taking a selfie near the sea edge.
"With all this going on, the last thing you would expect to see is irresponsible people taking selfies," the spokesperson said.
During a tidal surge in 2013, seven homes were badly damaged, including three that fell into the sea.
In 2014 villagers put in a £2.3m bid to the government for flood defences but failed to secure funding after being told by the Coastal Communities Fund that other applications "offered us a stronger fit".
However, by June 2015 partial sea defences of honeycombed-shaped concrete blocks were put into the dunes after residents raised £70,000, with Norfolk County Council providing a further £50,000.