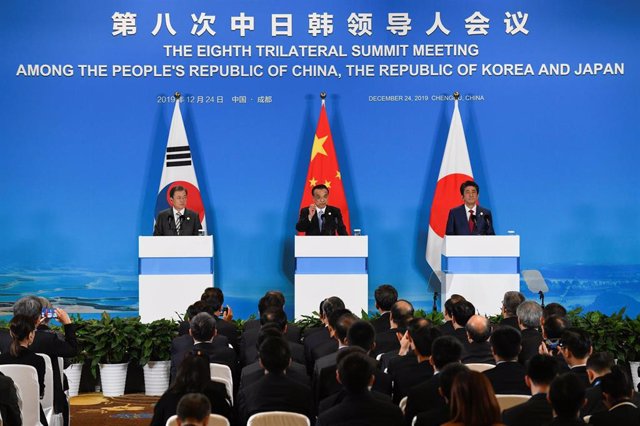 The Chinese prime minister, along with his counterpart from Japan, Shinzo Abe, and the president of South Korea, Moon Jae In, during a summit between the three countries held in China. – REUTERS / POOL NEW
CHENGDÚ, Dec. 24 (Reuters / EP) –
The president of South Korea, Moon Jae In, announced on Tuesday that after meeting with his counterparts from China and Japan, they have agreed to work together to bring the negotiations between the United States and North Korea back and thus reach "denuclearization and lasting peace on the peninsula".
"South Korea, China, and Japan share the view that peace on the Korean peninsula is of common interest and we have decided to work together to ensure that denuclearization and peace continue through a rapid dialogue between North Korea and United States, "said the South Korean president after a summit between the three countries held in China.
For its part, North Korea set a deadline until the end of the year for the United States to change its "hostility policy" after the last negotiations were halted.
The leader of North Korea, Kim Jong Un, and the president of the United States, Donald Trump, have met three times since June 2018, however no significant progress has been made.
Pyongyang has requested that international sanctions be lifted, something to which Washington is not very willing if the Asian country continues its arms tests.
For its part, China is the main economic and diplomatic support that North Korea has. Together with Moscow, Beijing asked the United Nations Security Council last week to lift some of those sanctions in order to break the current stalemate situation, but it did not find support from Washington and the rest of the international powers.