Haye v Bellew: Haye vows to put 'soul' on line to avenge 2017 defeat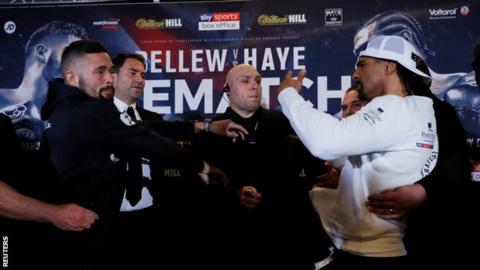 Bellew v Haye 2
Venue: The O2 Arena, London Date: Saturday, 5 May
Coverage: From 20:00 BST – Follow live text commentary on the BBC Sport website and mobile app
David Haye feels defeat to Tony Bellew could tarnish all he has achieved in boxing and will put his "soul" on the line in Saturday's heavyweight rematch.
The pair engaged in repeated arguments at Thursday's news conference, which ended with Bellew pushing Haye.
Haye, 37, is a former world champion at heavyweight and cruiserweight but says he will retire if he doesn't avenge his defeat of 14 months ago.
"Everything is on the line here, my reputation, my whole soul," said Haye.
Only Haye and Evander Holyfield have unified titles at cruiserweight and gone on to win a heavyweight world title.
Since returning to the sport in 2016 after a three-year absence, Haye has sought to get back among the world's best at heavyweight but defeat and injury in his bout with Bellew hampered his plans.
Wearing a cap emblazoned with the word 'revenge' on Thursday, Haye added: "My last fight was a stoppage loss. For me that is the worst finish to any career and it would put a big smudge over my resume.
"It would feel like I have undone all the great fights I have had over the years. I will not allow him to win on Saturday."
'We will close the curtain on you'
Haye has remained far calmer than during the controversial fightweek that preceded their 2017 bout.
But late in Thursday's news conference he was drawn into arguments with Bellew, who pushed his rival away when they touched heads during a face-off.
"We will remember you for your fantastic nights but Saturday night will not be one of them," Bellew, 35, told Haye.
"There will be no rematch David, we will just close the curtain on you.
"You are going to have to do things that you don't want to do. I promise you, I swear, you are going to have to go to those places."
A long night in store?
The O2 Arena bout will be only Bellew's second at heavyweight in his 32-fight career.
In 2017, he capitalised when Haye damaged his Achilles midway through their fight to score an 11th-round stoppage and agreed to a rematch, even though it was not initially written into the fight contract.
Haye admits he made a "big mistake" in underestimating Bellew but feels this time around his display will be more "clinical" thanks to work with new trainer Ismael Salas.
The Cuban told reporters he has spent seven months away from his family in the United States in order to train Haye, who opened up on a game plan to wear down Bellew and win the fight late on.
"This time around I have kept my plan under wraps but it's to do as much damage in the first six rounds and then step it up from round seven to 12," said Haye.
"I will give you the performance you expected last time around.
"I don't believe the fight will end early. Ismael says the first six rounds are about breaking him down, chopping him up.
"From round seven let's see what's left in front of me because I am ready to put my foot on the gas. I am ready for 12 hard rounds."
Haye has only gone 12 rounds three times in his 31-fight career but has not done so since losing the WBA world heavyweight title to Wladimir Klitschko in 2011.