Hawaii's Mount Kilauea: Explosive eruption at volcano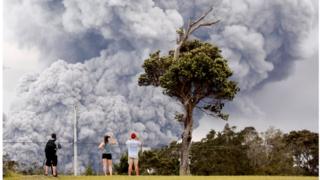 An explosive eruption at Hawaii's Kilauea volcano has sent ash 30,000ft (9,100m) into the sky.
The US Geological Survey says the eruption took place at 04:15 local time (14:15 GMT).
Staff at the volcano observatory and the national park had previously been evacuated.
Since a new zone of Mount Kilauea began erupting almost two weeks ago, lava has wrecked dozens of homes and forced hundreds of people to be evacuated.
A red aviation code had already been issued – warning pilots to avoid the potentially damaging ash cloud.
The USGS had warned that an explosive eruption at Kilauea was becoming more likely as the volcano's lava lake was lowering.
This increases the risk of highly explosive steam-powered eruptions as the magma meets underground water.
Hawaii's emergency management agency advised people in the area affected by ash to stay in their homes if possible.
Kilauea is one of five active volcanoes on the island of Hawaii.
It is one of the most active volcanoes in the world and has been erupting continuously, though not explosively, for more than 30 years.
Its last explosive eruption took place in 1924.
Even before Thursday morning's explosive eruption, the ash plume from the volcano could be seen from the International Space Station.