Hawaiians watch lava eat their street
Residents are allowed back in to the evacuation zone to check on their properties.
One local who has been tracking the volcanic activity since it began drives us inside, past the checkpoints, to get as close as we dare to the power of mount Kilauea.
It is a calculated risk to get closer to the story.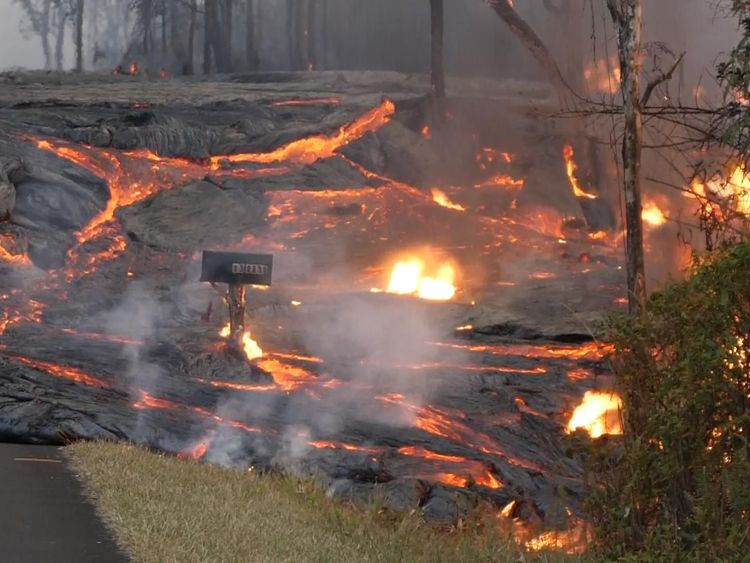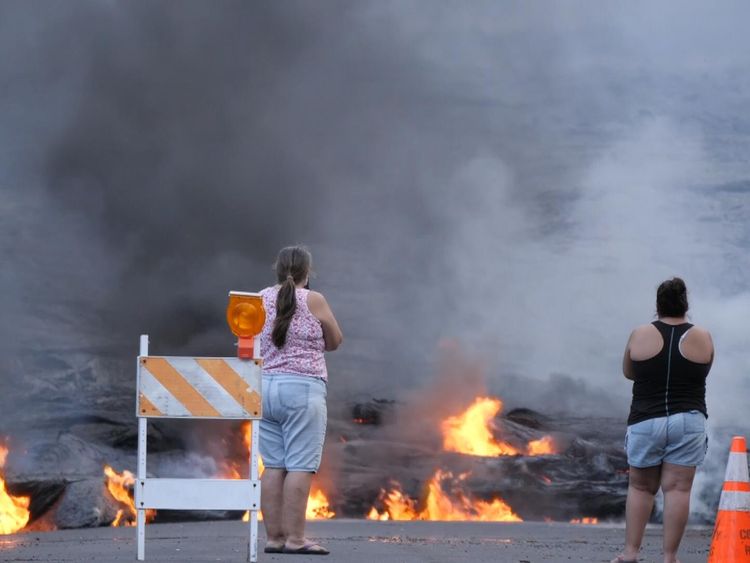 We pull in to Kaupili Street and an extraordinary scene.
An active fissure is pushing a vast, bubbling lava field along the road, eating up trees and properties along the way.
It gurgles and snakes forward, hissing and popping; a slow motion, unstoppable destructive force.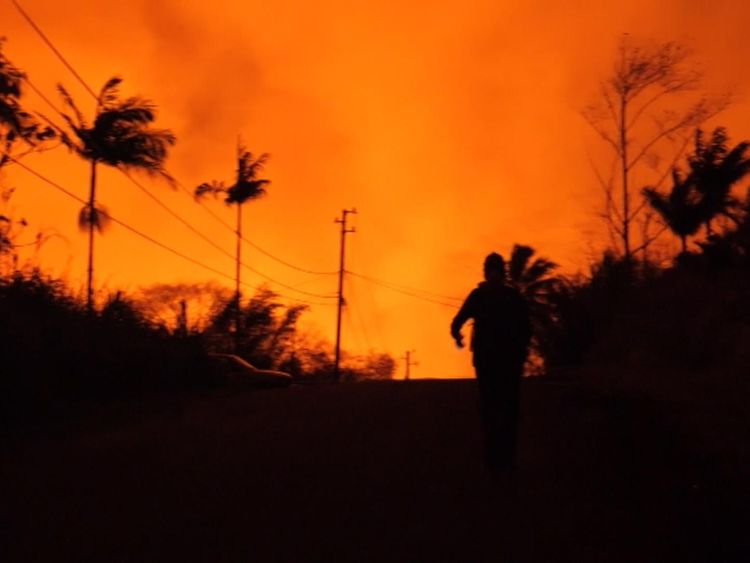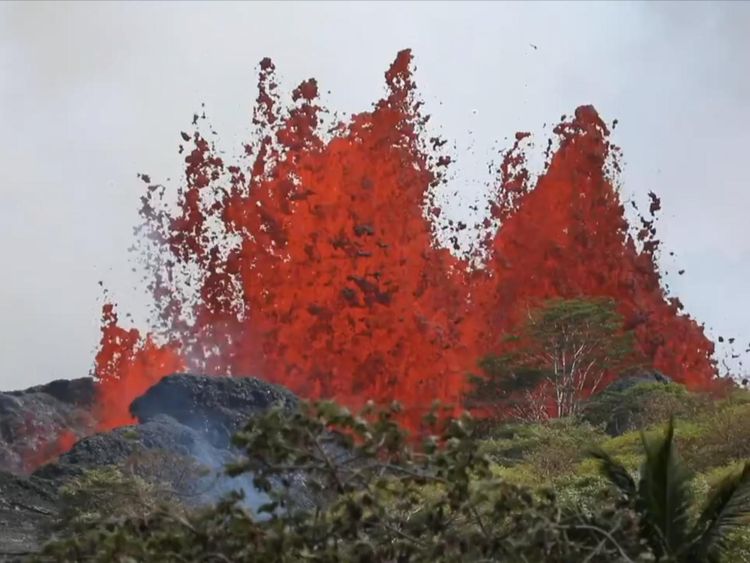 Incongruously, some residents have come to take selfies as the rainforest bursts into flames and the tarmac under our feet heats up.
But for others this is an awful moment.
Mum and daughter Lori and Alyssa Cruz comfort one another as the lava envelops a neatly painted postbox.
They know if the lava keeps moving like this their home will be gone soon.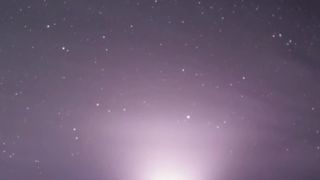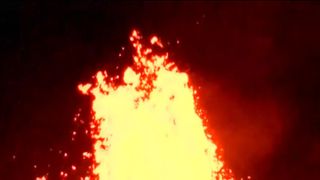 Lori said: "I live right up here, and I have already evacuated everything.
"I just came down to say goodbye to my neighbourhood one last time.
"When you know everyone on this road, you're like a family, you know, it's devastating.
Alyssa said: "I didn't know what to expect but I was hoping that my house wasn't going to get destroyed.
"I guess God had other plans."
We finish talking and the lava starts flowing more quickly.
We hear a sound like a jet engine.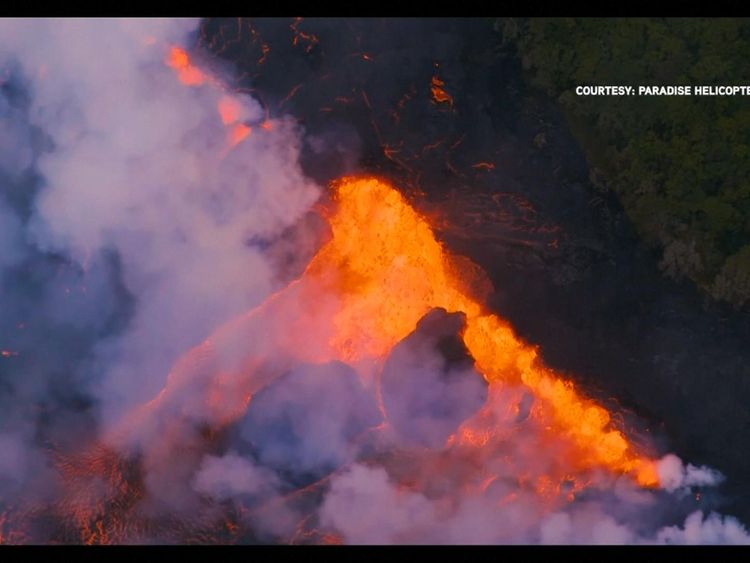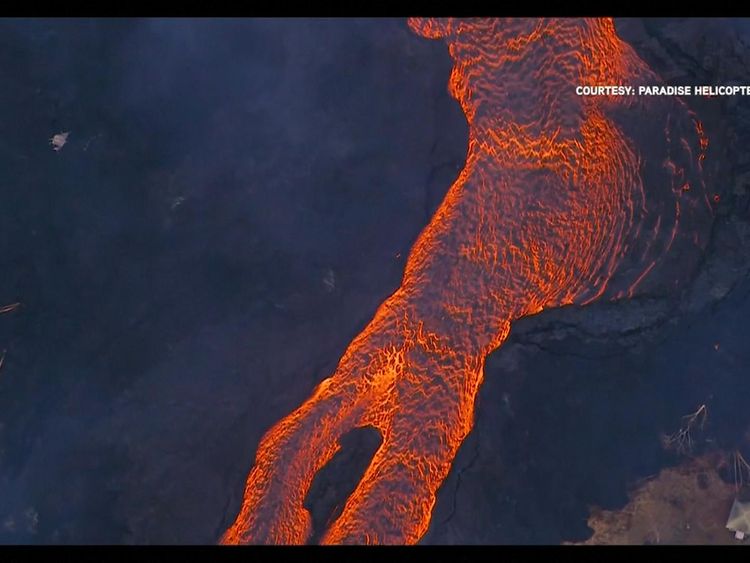 It is steam shooting up into the air from further back in the river of molten rock.
The locals say it's time to move, worried it could be a new fissure opening up or the beginning of a series of explosions.
From a slightly safer distance, we watch as it slows down, and people gather to wonder.
Hawaii's Big Island is a spiritual place, and a surprising number of people directly affected by the eruptions have been resolutely philosophical about what is happening to them, often embracing the chance to commune with Pele, who they believe is the goddess of fire and volcanoes.
Resident Howard Rosin said: "It is tragic and in another way it's really beautiful because it's absolute destruction and creation at the same time.
"It's primordial. Cosmic soup."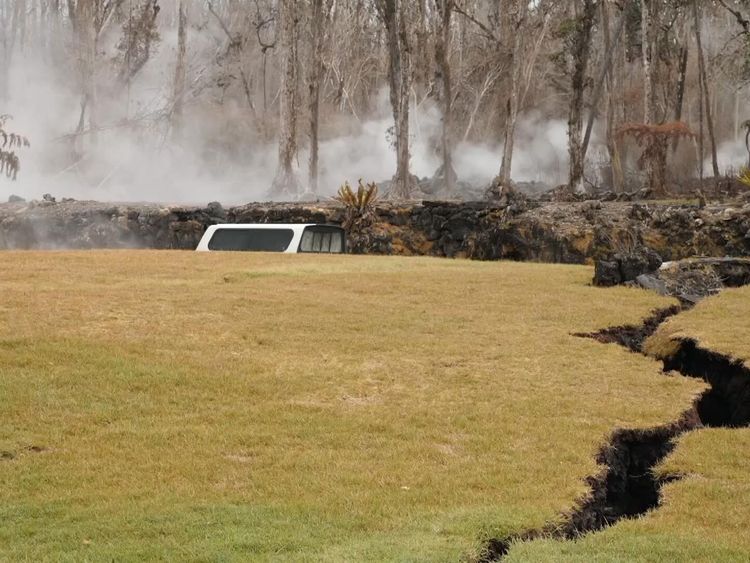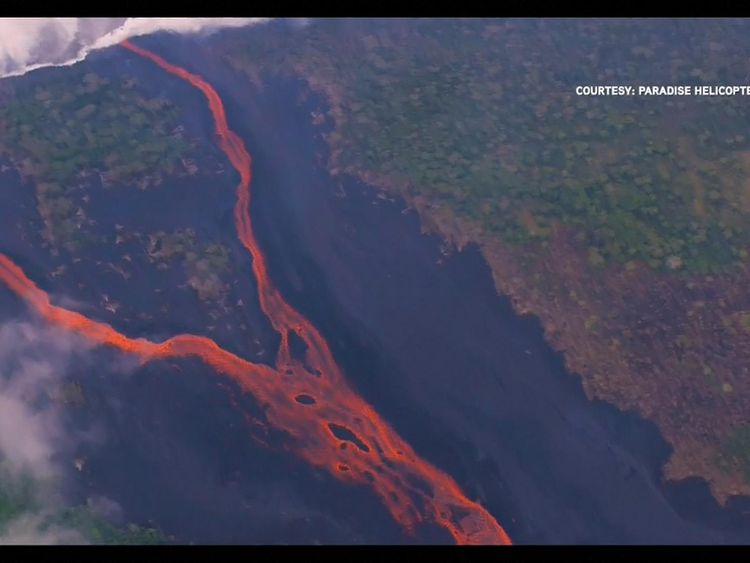 Night falls and the sky glows orange above us.
The wind shifts so we put gas masks on to protect against sulphur dioxide as we walk to a different vantage point.
From the ridge we take in another extraordinary sight.
Multiple fissures and merging lava fields stretch as far as we can see, the power of mount Kilauea on full display.
A line of locals stands in silence, awed by the forces at work.
They have no choice but to watch, wait and hope they don't lose everything.