Hawaii told to fix its alert system after false missile alarm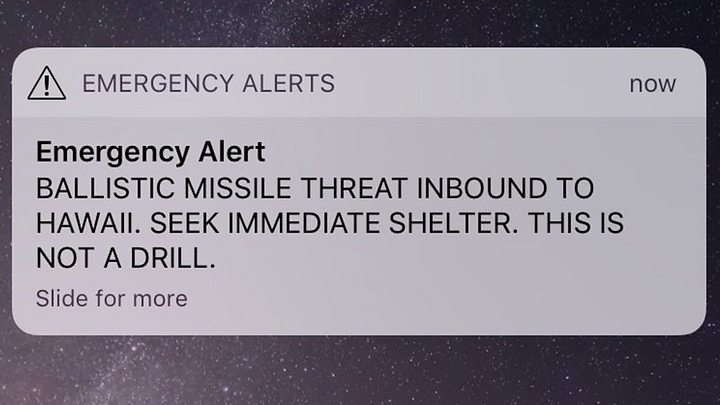 The US state of Hawaii has been told it did not have "reasonable" safeguards in place to prevent the false missile alert that caused panic on Saturday.
Ajit Pai, chairman of America's media regulator, the Federal Communications Commission (FCC), said the error was "absolutely unacceptable".
The 38-minute delay in issuing the correction made it worse, he added.
He called for officials at all levels throughout the US to work together to rectify any vulnerabilities.
Residents and visitors to Hawaii were shocked to receive the false alert of an incoming ballistic missile, sent to their mobile phones early on Saturday morning.
Apologising afterwards, Hawaii's Governor David Ige said a member of staff had pressed the wrong button, releasing the alert which was also broadcast on TV and radio stations.
The alert system is in place because of the potential proximity of Hawaii to North Korean missiles.
What exactly did the FCC chairman say?
In a statement, Mr Pai said the alert had caused a "wave of panic across the state – worsened by the 38-minute delay before a correction alert was issued".
"False alerts undermine public confidence in the alerting system and thus reduce their effectiveness during real emergencies," he said.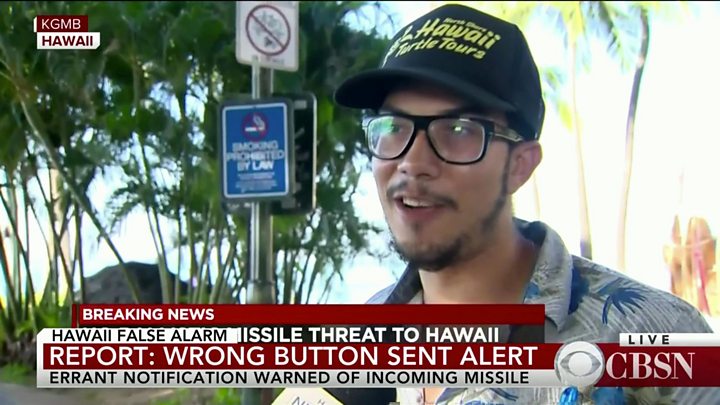 An FCC investigation, he continued, had already established that the "government of Hawaii did not have reasonable safeguards or process controls in place to prevent the transmission of a false alert".
"Moving forward, we will focus on what steps need to be taken to prevent a similar incident from happening again," he said.
Why was the alert sent?
It was a mistake by an employee at Hawaii's Emergency Management Agency during procedures that occur in a shift handover.
The message was reportedly sent despite an onscreen prompt requesting confirmation.
Mobile phone users received the message at 08:07 (18:07 GMT): "Ballistic missile threat inbound to Hawaii. Seek immediate shelter. This is not a drill."
The eventual correction said: "There is no missile threat or danger to the state of Hawaii."
Has any immediate action been taken to prevent a recurrence?
One of the problems was that the alert system did not allow for a correction to be sent quickly to mobiles.
State officials said a "cancellation template" would be created to address the problem, the New York Times reported.
Two people are also now required to sign off the issuing of an alert, it said.
Will heads roll?
Hawaiian state officials were profusely apologetic. Governor Ige said: "I am sorry for the pain and confusion it caused. I, too, am extremely upset about this."
Vern Miyagi, administrator of the Hawaii Emergency Management Agency, also apologised for the "inadvertent mistake".
Hawaii Congresswoman Tulsi Gabbard told ABC News there had been an "epic failure of leadership".
"It was unacceptable that this went out in the first place but the fact that it took so long for them to put out that second message, to calm people, to allay their fears that this was a mistake, a false alarm is something that has to be fixed, corrected with people held accountable," she said.
Brigette Namata, a television reporter in Honolulu, said it was "mind-boggling that we have officials here, we have state workers that are in charge of our public safety and a huge, egregious mistake like this happened".
President Donald Trump, who was playing golf in Florida at the time of the alert, has been criticised for not commenting publicly on the event.
Why was Hawaii already on edge?
North Korea's missile and nuclear programme is seen as a growing threat to the United States. Hawaii is one of the US states closest to the country.
In September Pyongyang carried out its sixth nuclear test.
Last month, the Star-Advertiser reported that a missile launched from North Korea could strike Hawaii within 20 minutes of launch.
So Hawaii has reintroduced Cold War-era warning sirens. During a test last month, it was reported that 93% of them worked properly, although some could hardly be heard and 12 mistakenly played the ambulance siren.