Harvey Weinstein: What next after first charges filed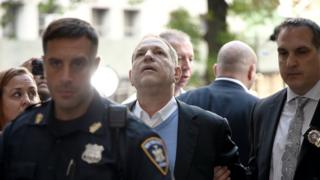 Hollywood producer Harvey Weinstein has been charged with rape and several other counts of sexual abuse after handing himself in to police.
The charges come after dozens of allegations of sexual misconduct were made against the producer, although they relate to only two accusers.
Mr Weinstein denies non-consensual sex and is expected to plead not guilty.
The development was welcomed by his accusers, with the actress Rose McGowan hailing it as a "significant moment".
Despite the avalanche of accusations against Mr Weinstein and the vast media coverage of his disgrace, these are the first criminal charges to be brought against him.
They mark the beginning of the next chapter in the case against him – a shift, if he is indicted, from the court of public opinion to the court of law. Below we've looked at how that process might unfold.
What is Mr Weinstein charged with?
On Friday, Mr Weinstein was arrested and charged with rape, a criminal sex act, sex abuse, and sexual misconduct. The charges relate to incidents involving two women: one identified by her lawyer as the former actress Lucia Evans; the other unnamed.
"The arrest and ensuing charges are the result of a joint investigation between the NYPD and the Manhattan District Attorney," the New York City Police Department said in a statement.
Mr Weinstein could face up to 25 years in prison if convicted of rape or a criminal sex act, officials said. His lawyer, Benjamin Brafman, told reporters his client would plead not guilty to all charges.
Could he face further charges?
Yes. The Manhattan District Attorney's inquiry that was mentioned in the police statement is still ongoing, meaning it may uncover new evidence.
Elsewhere, police in California and the UK are investigating allegations of sexual misconduct, which could produce fresh charges.
London's Metropolitan Police said last year that Mr Weinstein had been accused of assaulting three women in separate incidents in the late 1980s, 1992, 2010, 2011 and 2015.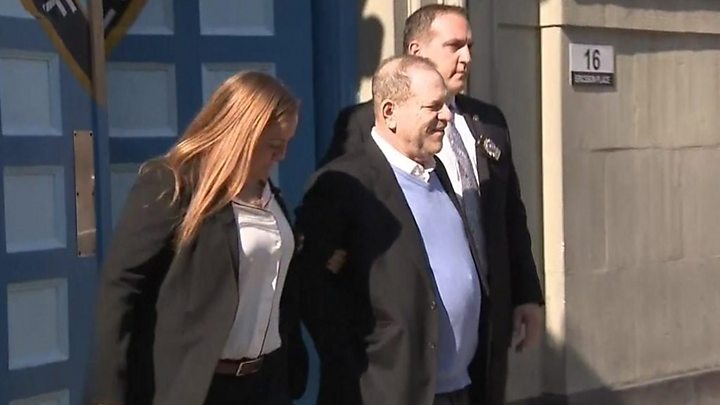 When will he go on trial?
That is not yet clear. A grand jury is deliberating whether there is enough evidence to indict Mr Weinstein, which would begin the process of him standing trial.
In order to come to this conclusion, the jury can issue subpoenas to compel people to testify or hand over documentation relating to the case.
The jury can also question witnesses, who are not allowed to have lawyers in attendance.
The grand jury must indict Mr Weinstein within six months, but it could be more than a year before a trial begins.
How might the defence approach the case?
In 2011, Mr Weinstein's lawyer, Ben Brafman, successfully defended the former head of the International Monetary Fund, Dominique Strauss-Kahn, who was tried on sexual assault charges.
He did so by attacking the credibility of Mr Strauss-Kahn's accuser – a not uncommon strategy in so-called he said-she said cases, where it boils down to one person's word against another's.
Speaking to reporters outside court on Friday, he questioned why Mr Weinstein's accusers had not come forward sooner – suggesting he might take a similar approach.
"Many of the allegations are long overdue, quite frankly, having been made about events alleged to have occurred many years ago," he said. "They were no reported to police at the time they occurred. I anticipate that the women who made these allegations, under cross examination, if we even get that far, will not be believed."
Whether that would approach would work in this case could come down to the affect of the extraordinary #MeToo movement sparked by the allegations against Mr Weinstein, which could make attempting to undermine his accusers a riskier strategy.
Speaking outside court on Friday, Mr Brafman indicated that #MeToo was a factor in his thinking. He said the women would not be believed, "assuming we get 12 fair people who are not consumed by the movement that seems to have overtaken this case."
What about the prosecution?
Prosecutors in the case could conceivably look back to another recent celebrity sexual assault case – that of Bill Cosby.
Cosby, like Mr Weinstein, had been accused by a large number of women but was on trial on charges stemming from just one – Andrea Constand. In Mr Weinstein's case there are two accusers.
In Cosby's first trial, in which he was acquitted, the judge allowed one other accuser with a similar story to Ms Constand to testify on so-called "prior bad acts", even though her allegations were not connected to the case.
In the comedian's retrial, in a controversial decision, the judge allowed five women with similar accusations to testify, allowing the prosecution to make the case that Cosby's behaviour towards Ms Constand was part of a pattern.
If the prosecution in the Weinstein case can attempt to demonstrate in court that the two accusers in his case are two of many with similar stories, it could bolster the chances of a conviction.
What now for Mr Weinstein?
He has been released on $1m (£751,000) bail, and has agreed to wear a GPS tracker and to surrender his passport.
His next court appearance will be on 30 July, where he may find out if the grand jury has decided to indict him.