Harvey Proctor sues Met Police over false child abuse claims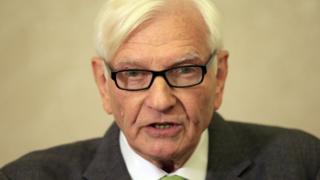 A former MP is claiming £1m in damages from the Metropolitan Police after being falsely accused of child sexual abuse and murder.
Harvey Proctor is also taking legal action against his accuser – a man known by the pseudonym "Nick".
Mr Proctor says the allegations and subsequent investigation by the Met resulted in him losing his job and home, and suffering from depression.
Scotland Yard said it would be defending the claim.
The investigation, known as Operation Midland, began in 2014 when Nick named Mr Proctor as one of a number of men who he claimed were part of an establishment paedophile ring in the 1970s and 1980s.
The former MP was cleared in 2016 when the Met said it had found insufficient evidence to consider any criminal charges. Scotland Yard apologised and a review of the case strongly criticised the investigation.
Mr Proctor's claim – filed at the High Court and seen by the BBC – identifies the Met Police Commissioner and Nick as the two defendants.
Mr Proctor's legal claim says that Nick's allegations were "false and malicious" and designed to damage him in an attempt to pervert the course of justice.
He claims police could have carried out "elementary research" to dismiss them before taking any action that would have resulted in him being affected.
He is accusing the Met of conspiring with Nick and a news agency, Exaro, which first published the allegations and facilitated a meeting with detectives.
Mr Proctor's claim highlights the statement by a senior police officer in late 2014 that Nick's claims were "credible and true".
He also says a police application for a warrant to search his home in Leicestershire amounted to an attempt to pervert the course of justice because it relied on Nick's allegations.
His legal claim details how police raised "child protection concerns" about him during the investigation and asked his employer – Belvoir Castle in Leicestershire – to suspend him.
He ended being forced to resign and lost his home, which was part of his employment at the castle.
Mr Proctor is also claiming his privacy was breached.
Since the investigation he has suffered what his doctor describes in the claim as a "major depressive episode".
Operation Midland began in 2014 after Nick claimed boys had been sexually abused and that three had been murdered by a group of powerful men from politics, the military and law enforcement agencies.
Retired judge Sir Richard Henriques later reviewed the investigation and identified 43 serious failings in his report, including that Nick had been believed for too long and that search warrants had been applied for with flawed information.
Northumbria Police has carried out an criminal investigation into Nick's actions and the CPS is currently considering the evidence.
Nick is separately facing a trial in connection with six charges of possessing images of child abuse and voyeurism.
The Metropolitan Police has already paid damages to Lord Bramall, the former chief of the defence staff, and the family of Lord Brittan, both of whom were also accused by Nick and investigated.