Harry Kane: Tottenham striker says he 'felt contact' to win penalty at Liverpool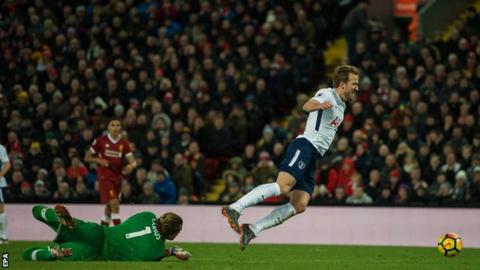 Tottenham striker Harry Kane says Liverpool's Virgil van Dijk was wrong to claim he dived to win a penalty during Sunday's 2-2 draw at Anfield.
Kane was brought down six minutes from time at Anfield by goalkeeper Loris Karius, who saved the spot-kick.
Defender Van Dijk, who later conceded an injury-time penalty Kane converted, said: "You see him diving clearly."
But Kane said: "I felt contact and I went down. I'm not going to jump out of the way because it's football."
Liverpool were angry the first penalty was awarded, with referee Jon Moss ruling Dejan Lovren's touch had played Kane onside before the England forward was brought down by Karius.
After the penalty was saved, Mohamed Salah's brilliant injury-time solo goal – his second of the game – looked to have given the Reds a win that would have taken them five points clear of Spurs.
But the home side were further angered when Spurs were awarded a second spot-kick, after Moss punished Van Dijk for his challenge on substitute Erik Lamela with seconds remaining.
Reds boss Jurgen Klopp said: "If I said what I think, I would pay the biggest fine in world football."
But Kane praised Moss and assistant referee Ed Smart for their decisions.
"I thought the linesman showed amazing character to give [the second penalty] because a lot happened for the first one so to give that penalty was massive – and it was a penalty," added the 24-year-old.
Former Spurs and England midfielder Jermaine Jenas said Moss and Smart got one of the decisions wrong.
You can read more of his analysis here.
'I'd trade the next 100 goals for the title'
Kane's goal was his 100th in the Premier League, in his 141st appearance in the competition.
"I dreamed of playing for Spurs since I was a boy," said Kane, writing for the Players' Tribune.
"For a long time my motivation was simply to close my eyes and picture myself scoring against Arsenal in the Premier League. Done that a few times now, and it never gets old.
"But now, my motivation is a bit different. Now, I close my eyes and I picture myself lifting the Premier League trophy at our new stadium with my mates. I'd trade the next 100 goals for that feeling."
In the build-up to Saturday's north London derby against Arsenal, Kane recounted the moment he was released by the Gunners as an eight-year-old, describing the decision as the "probably the best thing that ever happened to me".