Harry Kane future: Striker can win trophies at Spurs – Mauricio Pochettino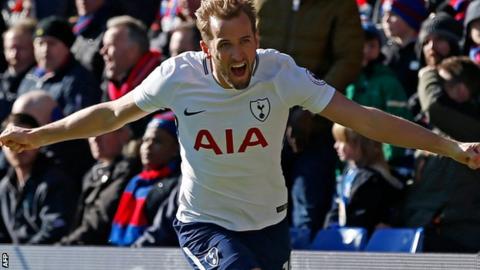 Tottenham boss Mauricio Pochettino insists star striker Harry Kane is happy and can win trophies with Spurs.
Former Spurs coach Andre Villas-Boas, who was sacked in December 2013, said the Premier League's leading scorer would have to leave to win silverware.
Pochettino said of the 24-year-old, who has scored 24 league goals this term: "Harry's happy here and of course wants to win titles here like all of us.
"We are here to develop, to help the club achieve and win titles."
Kane, who eclipsed Alan Shearer's 22-year-old record for Premier League goals in a calendar year last year, is bidding to win the Golden Boot for the third successive season and is currently one goal ahead of Liverpool's Mo Salah.
He has 35 goals in total this season and is closing on the Tottenham record of 49 in a season set by Clive Allen in 1986-87.
Kane scored a late winner for Tottenham on Sunday to beat Crystal Palace 1-0 at Selhurst Park to lift the club into the top four in the Premier League.
Villas-Boas, who left Chinese club Shanghai SIPG in November to compete in the Dakar Rally, said on Monday: "If he has a hunger for trophies and for notoriety he would have to leave Spurs, if he has no hunger for that, but (wants) recognition and stability, he would stay at Spurs.
"The trophy cabinet is still what is missing for this great club. That is in the end what footballers chase – glory, winning."
The Portuguese admitted he "wasn't the best coach" for Kane, adding: "I remember keeping insisting with him that the loan was better, he kept insisting with me that to stay was better.
"Of course, I was surprised at how well it turned out for him and the striker he has become – so powerful, a record-breaking striker. I attribute this to his own merit."
Meanwhile, Pochettino admitted he has discussed with Dele Alli the controversies over diving, but is not concerned the midfielder will suffer at the hands of referees.
"He's an easy target for opposition fans because it's easier to complain and accuse Dele," Pochettino said. "Of course, Dele is focused to improve, we're focused on helping him. He's a great player and a great kid, very competitive and he wants to win in every action."