Harry feels 'great' with marriage hours away
Accompanied by his older brother and best man, Harry spent around 10 minutes walking through the streets, shaking hands and speaking to those who have camped out to secure the best spot for the carriage procession.
Earlier in the afternoon, Doria Ragland, Meghan Markle's mother, had tea with the Queen and Prince Philip in Windsor Castle.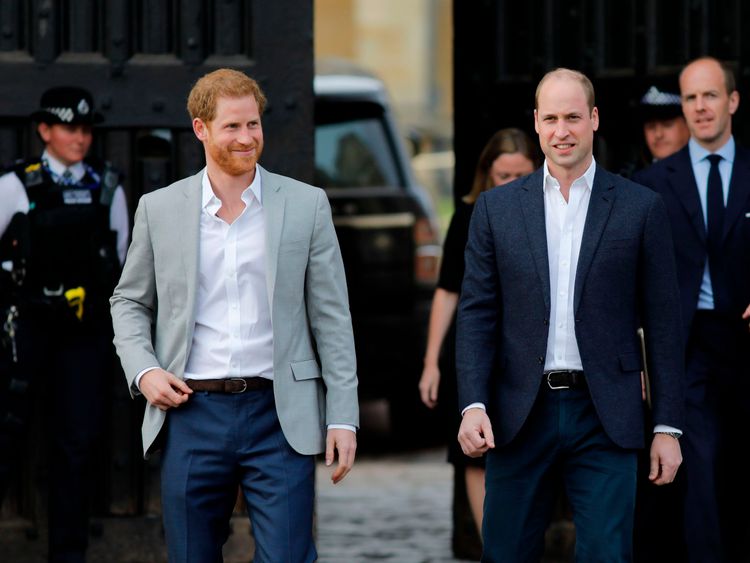 A radiant Ms Markle and her mother headed to the Cliveden House Hotel, where they are spending the night before the nuptials.
Beaming to the cameras, Ms Markle said she was feeling "wonderful".
It has been a turbulent final few days, as Ms Markle ended days of speculation about who would walk her down the aisle when her father's health meant he was unable to make the journey to Britain.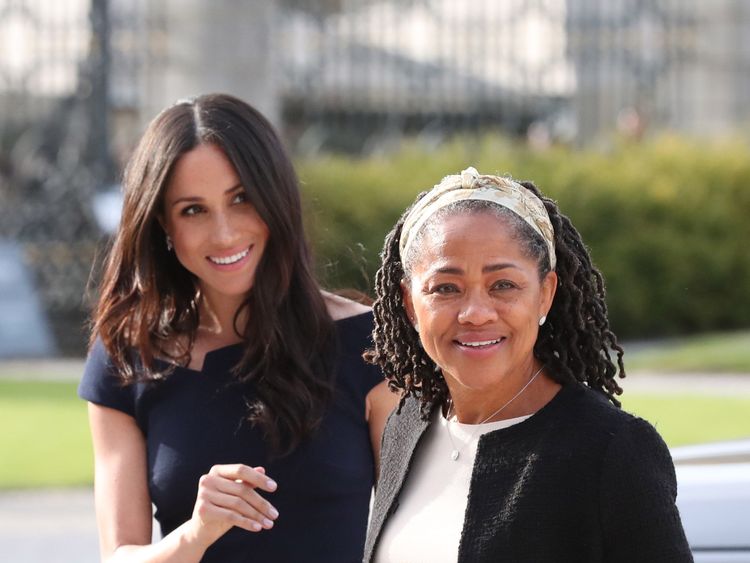 She asked Prince Charles to accompany her down the aisle, which he has agreed to do.
Ms Markle's final hours before she marries her fiance will be spent with her mother, as well as her hairdresser, dress designer, and some of her friends, according to reports.
She looked at ease as she and her mother were greeted by the hotel's general manager.
:: Prince Harry and Meghan Markle's royal wedding after-party – the lowdown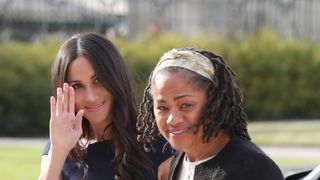 It came shortly after the prince and his best man took a surprise walkabout through the crowds, with Harry dodging a couple of questions about whether he was nervous.
He did say he was feeling "great" as he prepares to marry in the morning.
Harry and William did a similar walkabout in 2011, on the morning of William's wedding to Kate.
Prince Harry was handed a small teddy bear with a red t-shirt which he cuddled and took with him back into the castle.
He met Meghan O'Shea, a seven-year-old from Berkshire, who caught his attention with an 'H' which matches his wife-to-be.
She said he asked: "Is that like the one I'm going to marry?
"There's not very many Meghans with a 'H' around."
:: Meghan Markle's Suits co-stars arrive for the royal wedding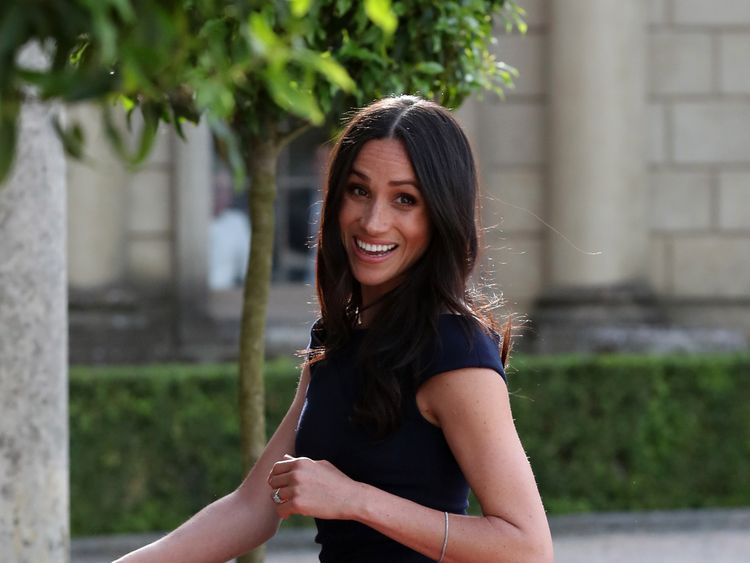 He also had a chat with former soldier Dean Stott, 41, who has returned from a 99 day cycle through the 14,000-mile Pan American Highway just in time to be a guest at Saturday's event.
He trained with the prince for six weeks in 2007 and the pair have stayed close. Harry congratulated his friend on the achievement and also told him he was "looking skinny". He's lost 12kg on the cycle expedition.
Mr Stott said of Harry: "If he is nervous, he's hiding it very well."
:: Royal wedding 2018: Ultimate guide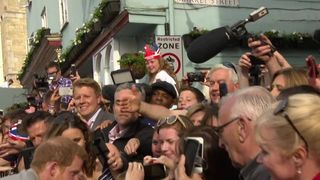 While Ms Markle stays at the Cliveden House Hotel, Harry will be 15 miles down the road in Coworth Park, owned by the Dorchester Collection.
The group of hotels is owned by the Sultan of Brunei, and Ms Markle has previously boycotted the chain on that basis.
A source told the Press Association that Harry and Ms Markle have the usual pre-wedding jitters.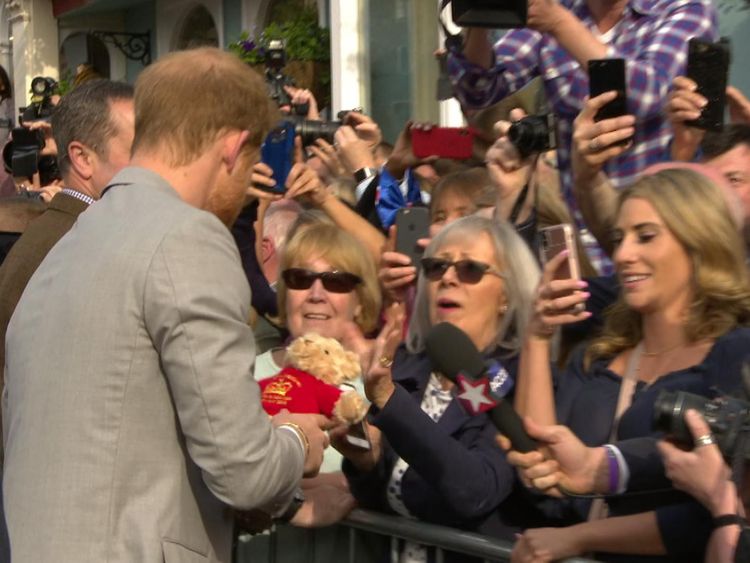 The source added: "They are both ready. The last couple of days all their friends have been arriving. I think everything has started to feel very real after a long time planning.
"All weddings are complicated to plan and something on this scale is completely different. They have made every decision."
While they relax in their hotels before the big day, a team of florists worked into the evening to put the final touches to the displays in St George's Chapel.
:: Who's going to Harry and Meghan's wedding?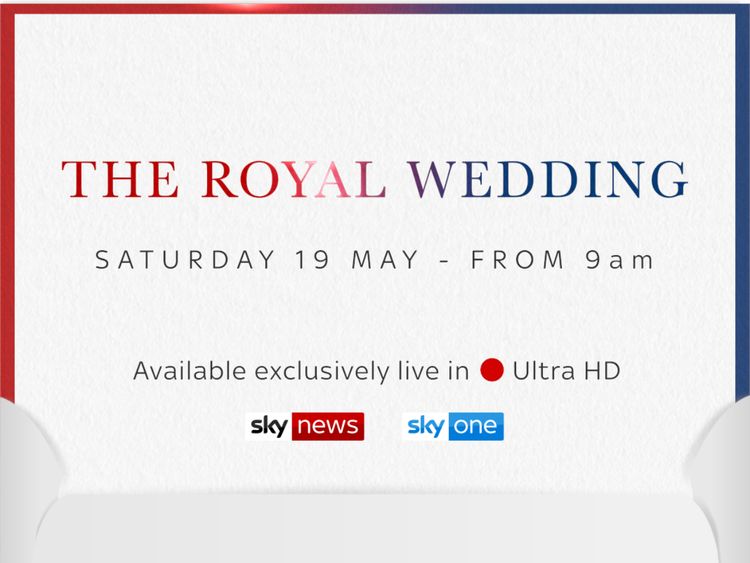 The florist, Philippa Craddock, was coy about the plans for the flowers on 19 May, saying she had a picture in her mind of how the displays would look.
More from Royal Wedding 2018



LA joy over hometown girl Meghan Markle's real-life fairytale




Royal wedding fever grips Windsor




Royal wedding ceremony revealed: The modern touches chosen by Harry and Meghan




Police escort for Windsor's 'other' wedding




Meghan Markle 'will walk alone' down first half of aisle before meeting Prince Charles




Royal wedding: The full order of service for Harry and Meghan's ceremony
She hinted there would be locally grown plants, including silver birch and English oak.
:: Sky News is broadcasting live from Windsor with all the build-up to the royal wedding, with exclusive live coverage of the wedding in UHD in a special programme ‪from 9am to 3pm on Sky News and Sky One ‪on Saturday.