Harry and Meghan make last-minute preparations
Ms Markle's mother is regarded as favourite for the role to replace the actress' father Thomas after he pulled out on health grounds.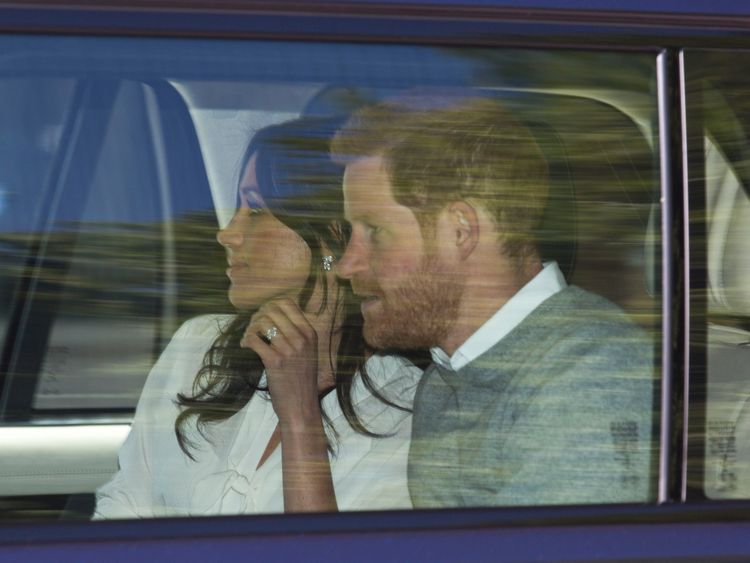 Doria Ragland had a series of whirlwind visits with senior royals after arriving from California on Wednesday.
She met Prince William, Kate, Prince George and Princess Charlotte at Windsor Castle on Thursday afternoon after having tea with Prince Charles and his wife Camilla on Wednesday.
:: Meghan Markle's sadness over father's wedding absence
:: Who's going to Harry and Meghan's wedding?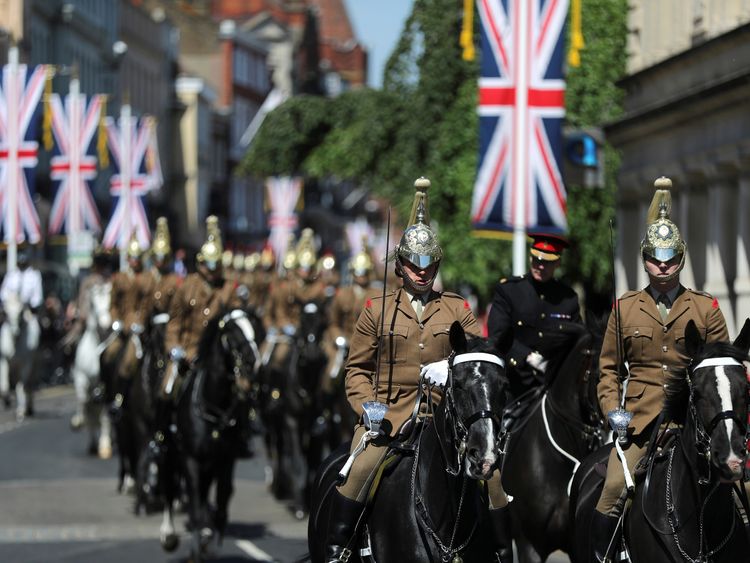 Buckingham Palace officials said Ms Ragland will meet the queen for tea on Friday at Windsor Castle.
There have also been suggestions Ms Markle's closest male friend, Soho House director Markus Anderson, could step in to replace Mr Markle, if she doesn't choose to walk unaccompanied.
The actress' father was initially said to have pulled out of attending the ceremony in St George's Chapel to avoid embarrassing his daughter.
:: Meghan and Harry's 'ethereal' wedding cake to be non-traditional
:: Actress, blogger, future royal: Who is Meghan Markle?
But on Thursday afternoon, hours before the royal couple had a wedding rehearsal, Mr Markle was reported to have been recovering in hospital after receiving treatment for blocked arteries.
In a statement released by Kensington Palace, Meghan Markle said: "Sadly, my father will not be attending our wedding. I have always cared for my father and hope he can be given the space he needs to focus on his health.
"I would like to thank everyone who has offered generous messages of support. Please know how much Harry and I look forward to sharing our special day with you on Saturday."
:: Royal wedding 2018: Full schedule of Harry and Meghan's big day
:: Royal wedding 2018: Ultimate guide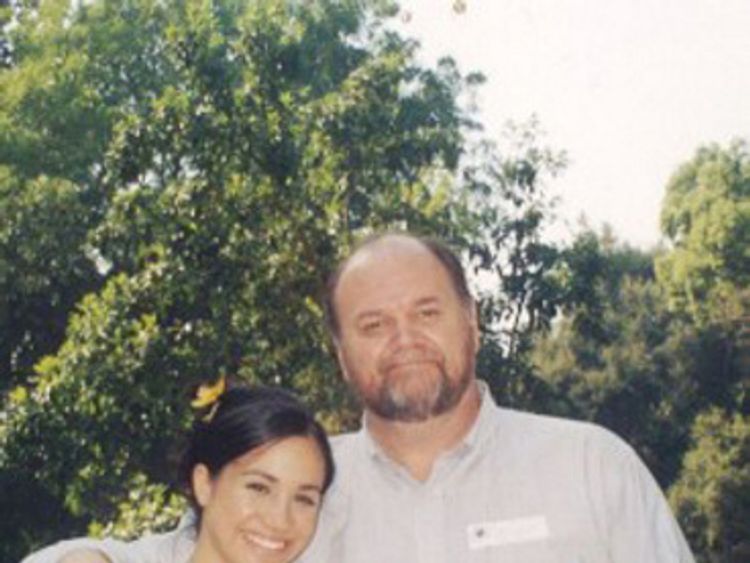 Mr Markle, a reclusive former TV lighting director, was embroiled in controversy after allegedly being caught staging photographs with the paparazzi.
His staying in the US meant Harry was not able to meet his future father-in-law – the first meeting had been due to take place this week.
:: 19 moments that shaped Prince Harry
:: Royal wedding florist gives sneak peek of day's arrangements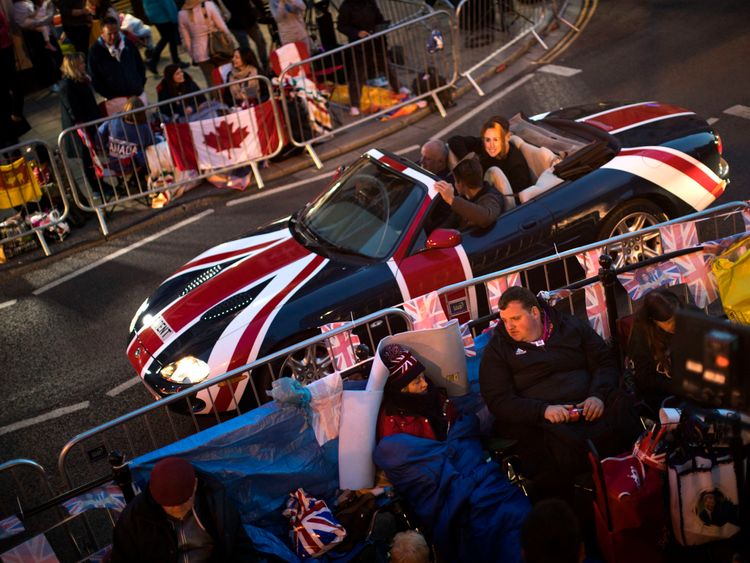 Thousands of people were expected to be in Windsor on Friday hoping to see the Harry before he spends his final night as a bachelor at the Dorchester Collection's Coworth Park in Ascot with his brother William.
William was accompanied by Harry when he undertook an impromptu walkabout outside Clarence House, in central London, the evening before his wedding to Kate Middleton, so many were hoping the younger prince would take a similar stroll.
:: Royal Wedding: The 10 weirdest Harry and Meghan mementos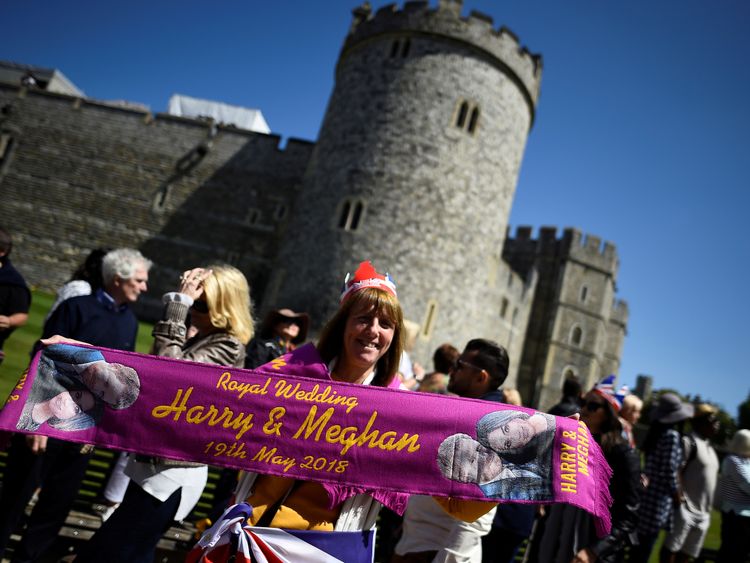 Several Windsor landmarks are going all out to mark the marriage, including the Three Tuns pub, which has renamed itself after the fifth in line to the throne, and Marks and Spencer, which has relabelled its stores Markle and Sparkle for the weekend.
As hundreds of people began sleeping out to make sure they get the best spots to watch the action, Ms Markle meanwhile prepared to stay at the Cliveden House Hotel, with her mother.
:: Meghan Markle's wedding dress and its place in royal fashion history
:: Sky Views: Give Meghan's dad a break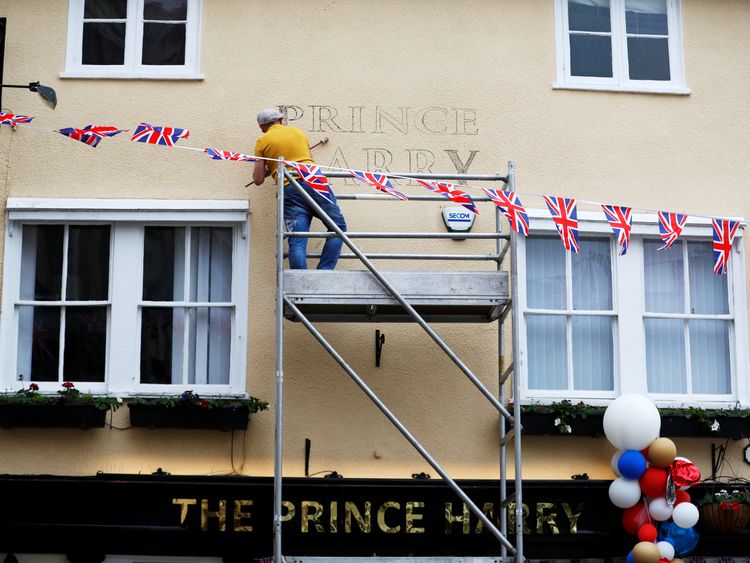 The grand country house, in a National Trust estate in Taplow, Berkshire, was made famous by its role in the Profumo Affair.
Harry and Ms Markle were spotted being driven through the grounds of Windsor Castle on Thursday evening, possibly their last hours together before they retire to separate locations for the eve of their special day.
:: Royal wedding 2018: Harry and Meghan's secret codes revealed
:: What Meghan Markle can do for black Britons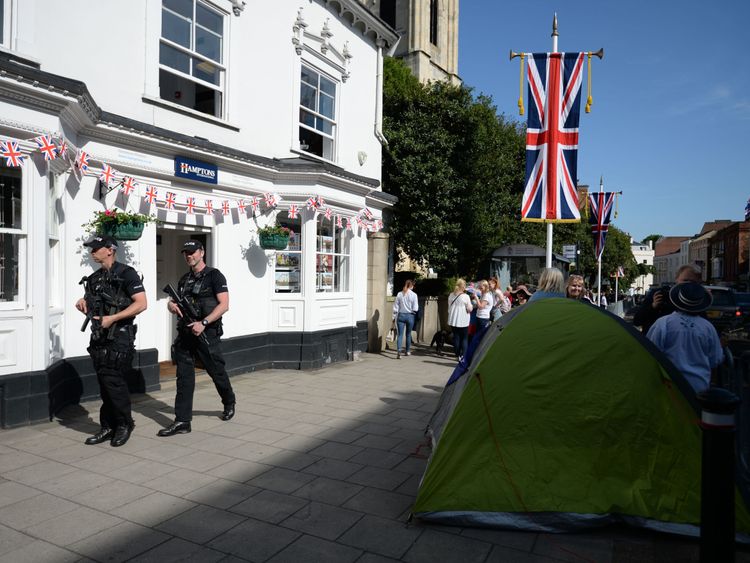 With so many rehearsals involving the armed forces taking place in Windsor, a huge police presence has been on the streets of the Berkshire town.
It came as hundreds of activists prepared to head to Windsor with sleeping bags, flasks, and soup to stage a sleepover in opposition to treatment of the homeless in the town.
A double-decker bus offering refuge to rough sleepers in Windsor operated by The Ark Project was impounded by officers.
The Thames Valley force said it had seized the 10-bed vehicle because of an issue with the driver's licence but charity founder, Michael Longsmith, vowed to drive it straight back to the forecourt of Windsor Castle before festivities get under way.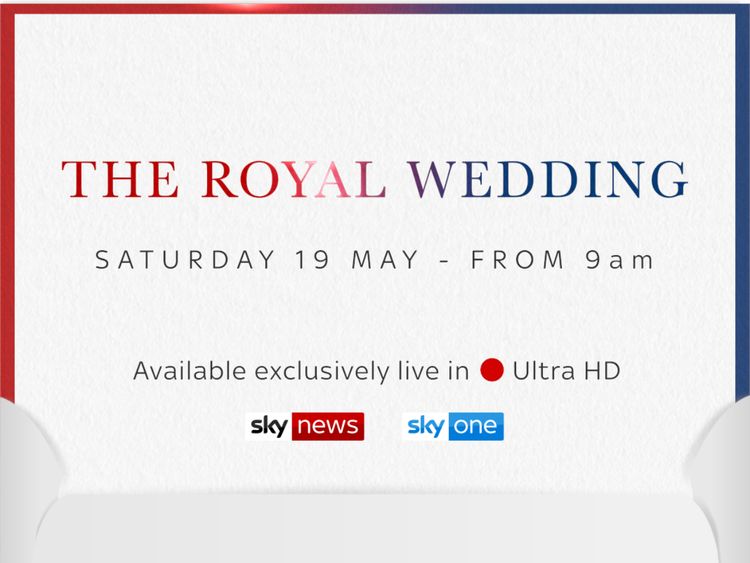 :: Sky News is broadcasting live from Windsor with all the build-up to the royal wedding, with exclusive live coverage of the wedding in UHD in a special programme ‪from 9am to 3pm on Sky News and Sky One ‪this Saturday.