Harry and Meghan attend first royal event since wedding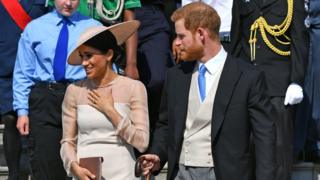 The Duke and Duchess of Sussex are at Buckingham Palace for their first royal engagement as a married couple.
The newlyweds arrived at the palace on Tuesday afternoon for a garden party as part of the Prince of Wales' 70th birthday celebrations.
Prince Harry, 33, and Meghan, 36, were married at Windsor Castle on Saturday.
The couple have not yet celebrated their honeymoon. Details including the location and date of the trip have not been revealed.
The garden party, which is being held ahead of Prince Charles' actual 70th birthday in November, celebrates the future king's patronages and military affiliations.
Prince Charles and the Duchess of Cornwall were also joined by more than 6,000 people from the charities he supports.
To mark the one year anniversary of the Manchester Arena bombing, emergency service workers who were on the scene on the night of the attack are also in attendance.
On Monday, the newly-married royal couple released three official photographs – including of bridesmaids and close family – taken on their wedding day.
The Duke and Duchess, who left Windsor on Sunday, also thanked everyone who took part in the celebrations, which were watched by an average of 11 million viewers on BBC or ITV at any one time.
More than 110,000 people also filled the streets of Windsor.
Following a lunchtime reception, the evening celebrations saw a black-tie dinner and fireworks display at Frogmore House, near Windsor Castle.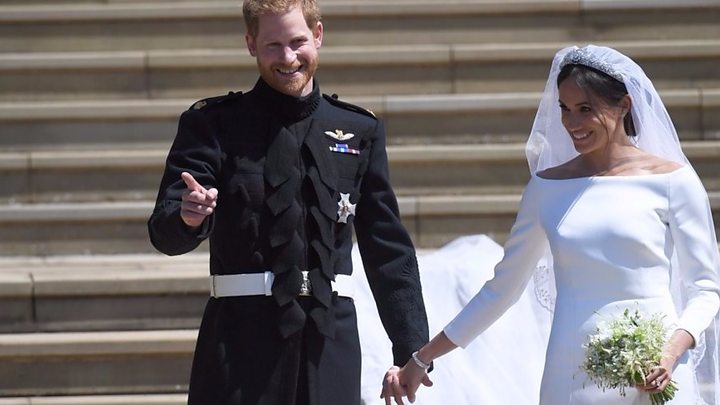 The evening refreshments are said to have included themed cocktails, including one named "When Harry met Meghan" – referencing the romantic comedy starring Meg Ryan and Billy Crystal.
Guests dined on posh burgers and candy floss, according to reports, and danced to music provided by a celebrity DJ.