Hard-hitting storylines prompt more calls to BBC helpline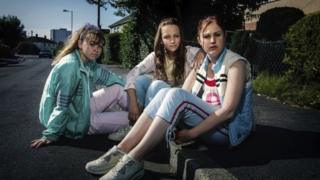 More than 127,000 people contacted the BBC's Action Line service for sexual abuse support in 2017, after dramas like Three Girls and Apple Tree Yard.
The number of people using the service, which offers information for audiences affected by issues in BBC programmes, has risen by more than 50% in the last year compared to 2016.
Plots in Eastenders and The Archers also prompted calls and online visits.
The BBC said it was pleased so many had received support.
Hospital drama Holby City raised issues around LGBT domestic abuse, bullying, bereavement, cancer and organ transplant, resulting in 6,455 viewers seeking support and information.
Meanwhile Radio 4 soap The Archers' story line about character Kirsty Miller's late miscarriage prompted 7,024 Action Line page views online.
And Eastender Ted Murray's battle with PTSD generated 3,939 calls and website visits.
"It's important that we tackle difficult subject matters," Piers Wenger, Controller of BBC Drama, said.
"The BBC's public service role means we're uniquely placed to help audiences deal with these difficult issues."
The Action Line had more than 431,000 visits or calls in total to the service in 2017 – 151,000 more than the year before.
In May, the BBC broadcast Three Girls, starring Maxine Peake, based on the true stories of victims of grooming and sexual abuse in Rochdale, Greater Manchester.
Another popular drama was the four-part TV adaptation of Louise Doughty's novel Apple Tree Yard, about a woman's affair with a stranger, which featured a rape storyline.
But news programmes and documentaries also used the line throughout the year, including the BBC Two series Hospital and A Time to Live, about palliative care.
More than 204 viewers contacted the action line after She Spoke the Unspeakable, a programme highlighting the subject of female genital mutilation .
"It's important that we continue to cover such difficult issues and that we can provide free off-air information to help those affected to find organisations willing to offer support and help," said Keith Jones, from the BBC's audience services.