Ham's says that "all options are on the table" to respond to the 'agreement of the century'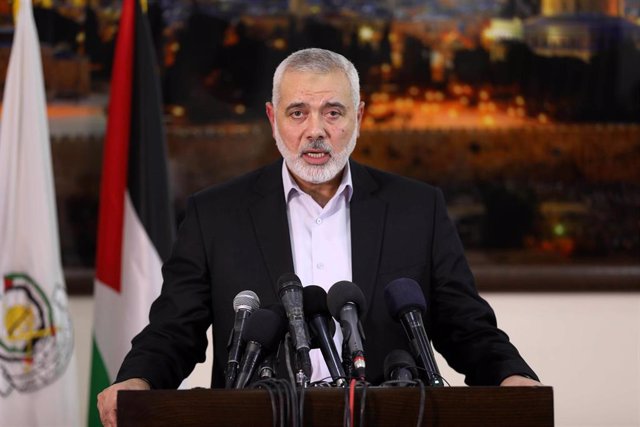 The leader of the Hamas political arm, Ismail Haniye – Mahmoud Ajjour / APA Images via ZU / DPA – Archive
MADRID, Feb. 6 (EUROPE PRESS) –
The Islamic Resistance Movement (Hamas) stressed Thursday that "all options are on the table" to respond to the so-called 'agreement of the century' and has applauded the attacks in the West Bank.
Abdelatif al Qunu, one of the spokesmen for the group, said in a statement that "it is time to start a new phase and start a massive revolution and a firm resistance against the occupation."
He also applauded the "operation" in "occupied Jerusalem", referring to one of the attacks carried out during the day, before adding that "it is an affirmation of the people's continuing revolution against the crimes of the occupation and attempts of liquidating its just cause. "
Earlier this Thursday, 15 Israeli soldiers were injured after a vehicle, whose driver has fled, hit a crowd near First Station, an entertainment center with shops or restaurants located in Jerusalem.
Soon after, a member of the Border Police has been slightly injured after being shot in the Old City of Jerusalem. In this case, the attacker has been shot dead by Israeli agents.
Also, an Israeli soldier has been slightly injured after being hit in a hand by a man who has opened fire on a military post located near a settlement in the West Bank, as collected by the Israeli newspaper 'Yedioth Ahronoth'.
On the other hand, two Palestinians, including a policeman, have been shot dead by Israeli soldiers in the town of Jenin, in the West Bank, in clashes stemming from an Israeli Defense Forces operation to demolish the home of a Palestinian terrorist. who killed a rabbi in September 2018.
The Palestinian Authority has blamed the rebound of violence during the last hours to the presentation of the so-called 'agreement of the century', the United States peace proposal for the Palestinian-Israeli conflict.
The so-called 'agreement of the century' points to Jerusalem as the "indivisible" capital of Israel, which would retain control of the Jewish colonies and the Jordan Valley, while Palestine would have its capital in an area of ​​East Jerusalem located outside the security barrier installed by Israel.
In response to its presentation, the president of the Palestinian Authority, Mahmoud Abbas, described the proposal as "the slap of the century" and stressed that it is destined to end "in the garbage dump of History."
For his part, the Israeli Prime Minister, Benjamin Netanyahu, stressed that the proposal "is the best agreement" that the Palestinians can achieve, which they have asked to accept the 'agreement of the century'.