Ham á s asks the Palestinian Authority to withdraw its recognition to Israel in response to the 'agreement of the century'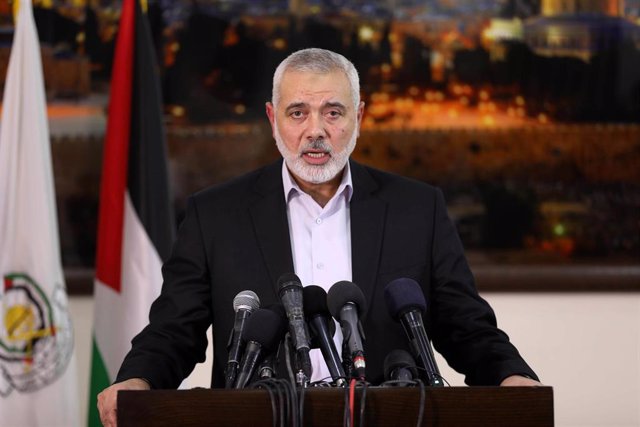 The leader of the Hamas political arm, Ismail Haniye – Mahmoud Ajjour / APA Images via ZU / DPA – Archive
MADRID, Jan. 31 (EUROPE PRESS) –
The 'number two' of the Islamic Resistance Movement (Hamas), Jalil al Hayá, has called on the Palestinian Authority on Friday to withdraw its recognition of Israel in response to what is known as the 'agreement of the century', the peace proposal presented this week for the United States.
Al Hayá has indicated during Friday prayers in a mosque in Gaza City that Palestinian authorities must end coordination with Israel at the security level, according to the Palestine Information Center
"The Arabs and Muslims have been busy with their differences and have opened the doors to the normalization of the occupation," he criticized, while charging against several countries in the region for supporting the 'agreement of the century'.
He has also stressed that the Palestinian population must maintain its "resistance" and added that Hamas and other armed groups "have prepared an army and have improved their weapons to expel the occupier (in reference to Israel) from the Palestinian territory."
Hamas on Wednesday described the US peace proposal for the Palestinian-Israeli conflict of "miserable piracy attempt" and promised to address it. "The United States and the Zionist enemy will take responsibility for this dirty conspiracy," he added.
On the other hand, he called for "the immediate rejection" of all political agreements previously reached, including the Oslo Accords, and the end of all forms of "cooperation and coordination" with the Israeli authorities.
Hamas also applauded the rejection of the 'agreement of the century' by the president of the Palestinian Authority, Mahmoud Abbas, and requested to take this position to "a joint national action program agreed to deal with the shame agreement."
Finally, he stressed that the Palestinians "will not allow the occupation or anyone to support them" to remain in Palestinian territory. "The Jordan Valley and the West Bank must remain purified from all settlements, as well as Haifa, Jaffa and all of Palestine," he said.
"Jerusalem will continue to be the eternal capital (of Palestine), no matter how they try to falsify history and steal rights," the Islamist group said in its statement.
The so-called 'agreement of the century' points to Jerusalem as the "indivisible" capital of Israel, which would retain control of the Jewish colonies and the Jordan Valley, while Palestine would have its capital in an area of ​​East Jerusalem located outside the security barrier installed by Israel.
The president of the United States, Donald Trump, defended, in an appearance in the White House next to the prime minister of Israel, Benjamin Netanyahu, that is a "realistic" solution to guarantee the peaceful coexistence of two states and urged the Palestinians to accept this "opportunity", which "could be the last".
In response, Abbas described the proposal as "the slap of the century" and stressed that it is destined to end "in the garbage dump of History."
For his part, Netanyahu said Wednesday that the proposal "is the best agreement" that the Palestinians can achieve, who have asked them to accept the 'agreement of the century'.