Haiti celebrates a cholera-free year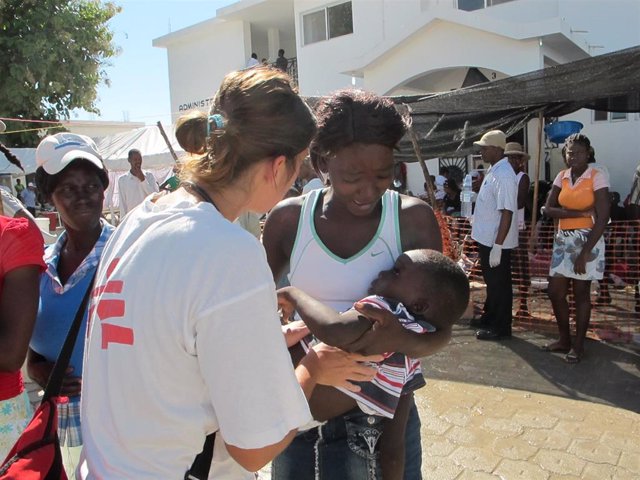 Archive image of the cholera outbreak in Haiti. – DOCTORS WITHOUT BORDERS – Archive
MADRID, 25 Jan. –
Haiti has fulfilled this Friday a year free of cholera after last January 24, 2019 a case of this disease was recorded, which has caused the death of 10,000 citizens in the last ten years, as reported by the Organization Pan American Health.
"The cholera outbreak in Haiti that began in October 2010, affected more than 820,000 people and killed 9792 has been controlled," PAHO said.
The last case reported was in the Artibonite department. Specifically, the victim was a child under five who had to be hospitalized, but recovered soon after.
The organization has attributed the achievement to its joint efforts with Haiti and other partner agencies to address the causes of the disease, including increased vigilance to detect and respond to possible outbreaks, the implementation of rapid diagnostic initiatives and treatment. of cases with rehydration and proper care.
"Cholera is a disease of inequality that disproportionately kills the poorest and most vulnerable people, those who do not have access to safe drinking water and sanitation. Death from cholera is preventable with the tools we have today, but to ensure that cholera remains a distant memory, we must also accelerate investments in drinking water and adequate sanitation in Haiti, "said the agency's director, Carissa Etienne.
According to the regional organization, detection and rapid tests are key to controlling outbreaks.
In this regard, from PAHO they have moved that together with the Ministry of Health of Haiti they work to allow nurses to transport samples faster with a motorcycle, a project that is called LaboMoto. This initiative has allowed the testing of suspicious cases to increase from 21 percent in 2017 to 95 percent in 2019, they have moved.
PAHO has also supported Haiti to ensure that primary care clinics have staff who know how to respond quickly and handle cases, in addition to the implementation of vaccination programs. For example, according to their data, more than 900,000 people were vaccinated after Hurricane Matthew in 2016.
However, he stressed that Haiti is in a lagging position compared to the rest of Latin America and the Caribbean on issues of access to drinking water and sanitation. Thus, more than one third of the population, 35 percent, lack basic drinking water services and two thirds, 65 percent, have limited or non-existent sanitation services, something that has indicated that it is "far below" of the regional average, which stands at 3 and 13 percent respectively.
Etienne has argued that although cholera is "under control" for now, it must remain "alert and ready." "We can only breathe easy when we get everyone in Haiti to have access to drinking water and sanitation services," he said.
Finally, from the organization they have expressed that to end this disease and receive validation from the World Health Organization (WHO), Haiti must maintain effective surveillance systems and remain without cholera for two more years.
"Early detection and response to possible outbreaks should also continue, and addressing the issue of clean water and sanitation for all Haitians is key to preventing the transmission of cholera and other long-term waterborne diseases," they explained. .